Watercolour Painting Tuition
I now provide private watercolour classes at my home in Ashbourne (I was a part-time art tutor for Derbyshire County Council from 1986 – 2006).
There will be an informal improvers/beginners class on a Thursday morning, 9.30 – 11.30am, and a more advanced improvers class in the afternoon, 1.15 – 3.15 pm, starting on the 12th September 2019 and finishing on the 12th December 2019. The winter term will start on 16th January 2020. The first class attended is free to newcomers (as a taster session) and all the materials such as brushes, paints, paper and other equipment are provided for the first few weeks (mainly for beginners).
Advice will given on buying new materials and you can bring your own to use if suitable. There is no binding contract to sign and people can join at any stage of term time.
I specialise in landscape and architecture as the principle subjects in my work as an artist. Therefore the main subject matter for my teaching programmes is based on all aspects of landscape studies with some still-life and architectural subjects. Other subject matter, such as animals or human portraiture, can be taught on request.
The number of teaching weeks per term will roughly match those of local schools – depending on demand – with 5 students per class (max.) who will greatly benefit from the small class size (and a cup of tea/coffee with biscuits during the class!).
The emphasis is on learning sound brush techniques using a limited palette of professional quality paints and basic drawing skills – which will lead to producing confident looking images -based on 'mindful' observation. Teaching methods include using practical subject demonstrations with individual tuition using my own original photographs (although students can use their own images that match class topics) and still-life objects.
I try to be as neutral as possible when showing brush techniques but something of my painting style will no doubt influence the outcome. It is amazing to see how people develop an individual style of their own fairly quickly and how unique their own artwork is compared with fellow class members work.
The minimum cost of each 2 hour class session is £8. Refreshments are given during each class. The first class is free for newcomers just starting out. A £3 retainer fee is requested for each class unattended during the term unless I cancel a class due to unforeseen circumstances.
Materials
The main palette of (Professional Quality) Winsor & Newton watercolours that I use (from the tube) include: French Ultramarine Blue, Winsor Blue (red shade), Winsor Lemon (replacing cadmium lemon), Yellow Ochre, Alizarin Crimson and Burnt Sienna (cheaper watercolours include lots of additive paste resulting in dullness of colour). I do not mix in any black or white paint when using a pure/transparent watercolour technique, but I often use permanent white gouache paint for body colour/highlights etc.
I find that I mainly use a round (size 12 or 14) synthetic sable 'Pro-Arte – Prolene Plus' brush for most of my painting (with the addition of a 3/4″ flat wash brush and a 'rigger' for fine lines). I normally paint on a thick 'NOT' surface (medium texture) watercolour paper stretched onto a stiff board. I use a porcelain palette for mixing paint in the studio with a plastic container with spaces for the dried paint to remain (and topped up as and when needed). When out on site I use a small folding metal paint box.
Shown below is a recent demonstration example, using the above colours, and was painted in stages for students to follow over two (2 hour) classes.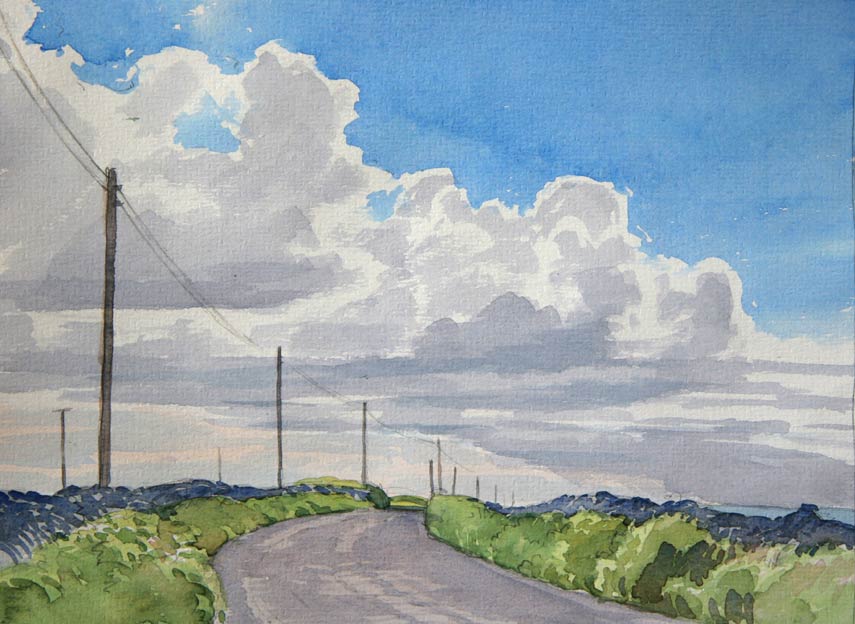 If you would like to find out about the availability of spaces in each class, please get in touch by email (neilclarke.artist@btinternet.com) or tel. 01335 347686 or 07858054522 to discuss your requirements. The Autumn term starts on Thursday September 12th – only 6 places available per class – please book places sooner than later!
The photograph below shows a exhibition of wonderful watercolour paintings by classmembers from the 2018/19 academic year – displayed in Ashbourne Library until the end of September.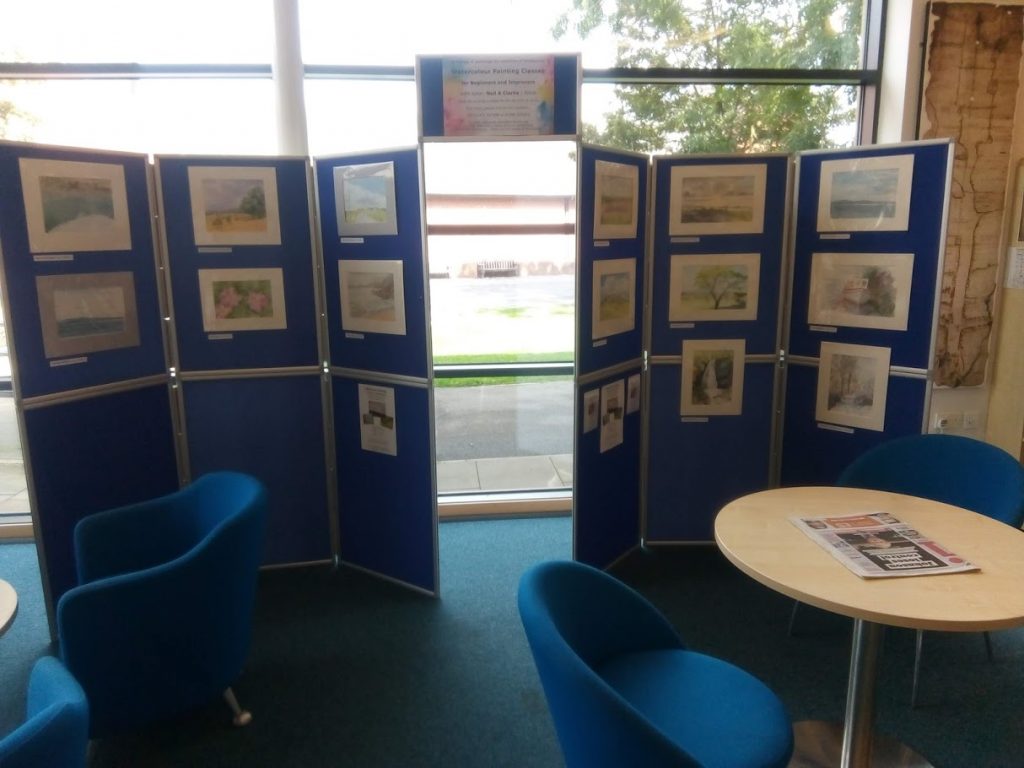 Save
Save
Save
Save