This page displays items of furniture and woodwork that I've designed and made for recent exhibitions and currently available to purchase either from my home studio/workshop or from high quality art and craft galleries. I also produce bespoke pieces to commission and the items shown below can be made to order in different sizes and timbers to suit your personal requirements. Page updated on 7/01/22.
These are contemporary pieces of furniture with hand cut dovetail joints – sculptural designs that highlight the natural beauty of wood grain. 'Dove-tables' (a name that I have given to the general table design) can be used as coffee tables or placed at the side of armchairs and used as side tables. Taller versions are available as console tables for the hallway or writing desks for the study or office – with or without drawers or shelves. They are designed to be timeless, sustainable and user friendly pieces of furniture made to last and look good for many generations to come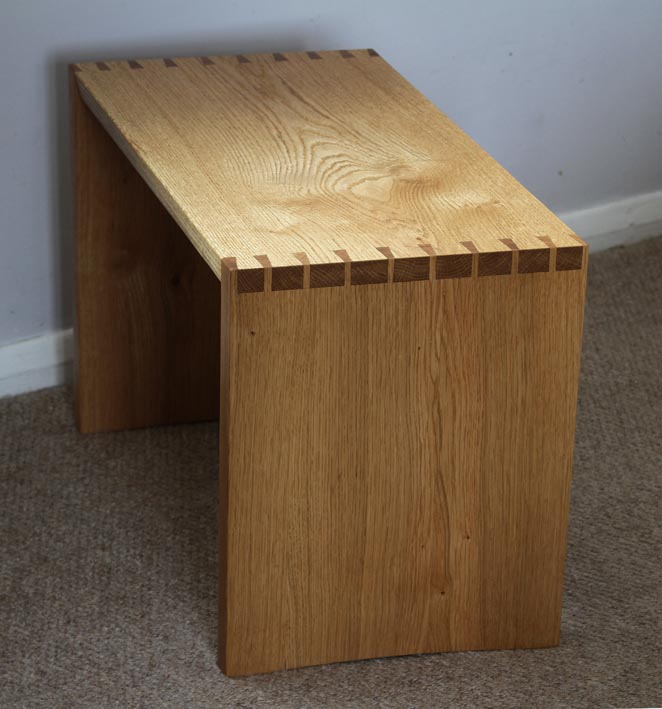 A parallelogram shaped Dove-table in solid European oak with angled dovetail joints at both ends! This recently made table (no. 98 in series) is currently for sale in Artifex, Sutton Coldfield, at £295. Dimensions: 50cm (20″) long x 29cm (11.5″) wide x 38cm (15″) tall.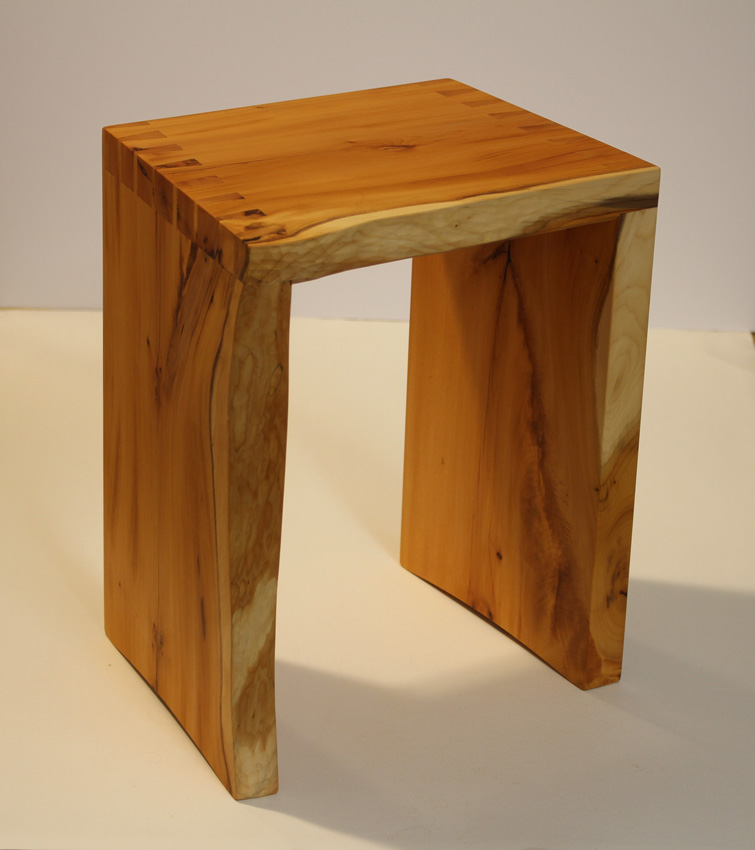 A small Dovetable in solid English yew with wany edges on the front side carved with a chisel (no. 100 in series), this one has an asymmetrical shaped top. This table is for sale at Artifex, (gallery), Sutton Coldfield.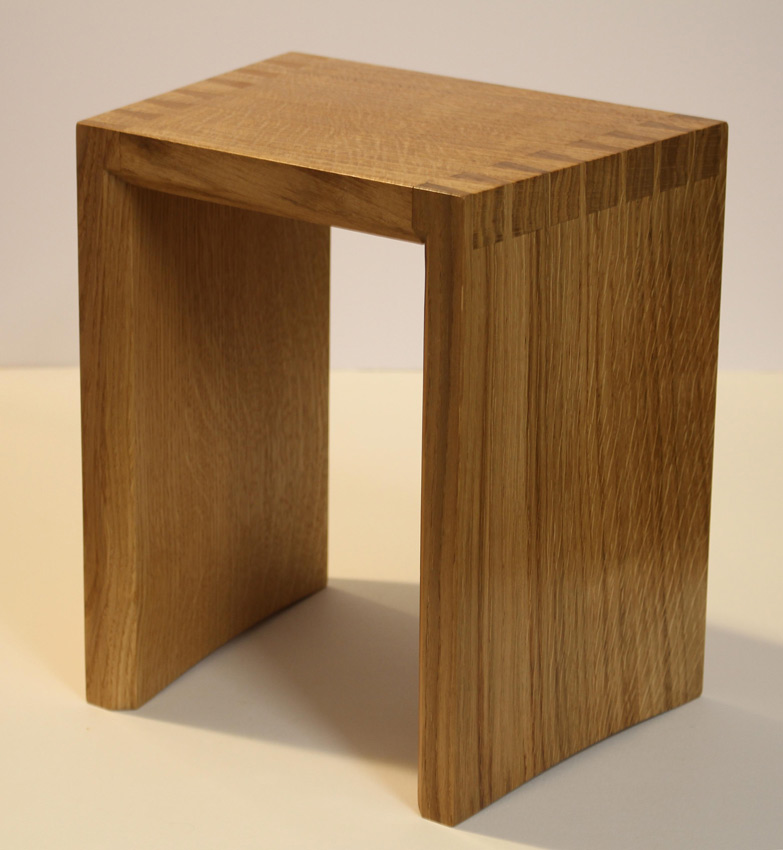 A wee Dovetable in solid European quartersawn oak with a deep chamfer to the rear side (no. 99 in series), asymmetrical in plan. This table is also currently for sale in Artifex, Sutton Coldfield.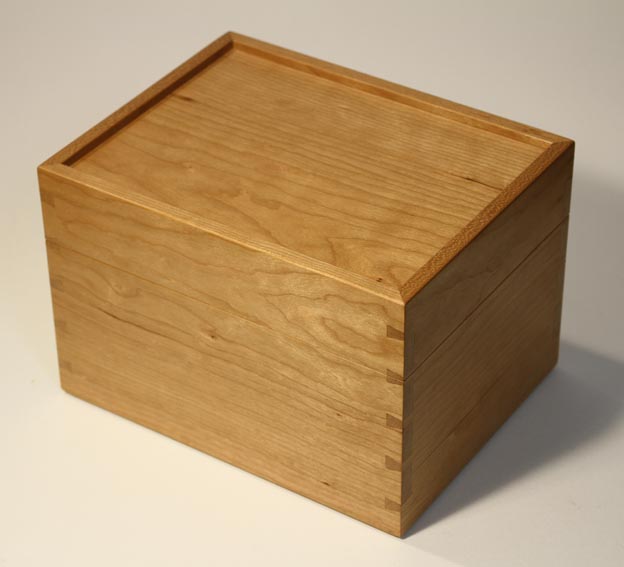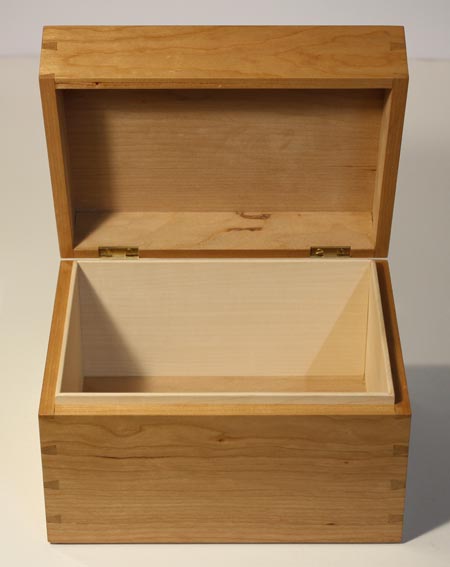 A dovetailed storage box in North American cherry with sycamore lined interior. Available directly from my workshop £250.
A pair of parallelogram shaped tables in solid European Oak with hand cut oblique dovetail joints. Both tables have been finished with a liming oil to keep the oak from darkening too much. Dove-table no. 90 and 91. These pieces are now sold but similar ones can be made to order.
The two pictures of the Dove-table shown above is a 'classic' of its type. It is made out of solid European Oak and features standard (90 degree) and oblique hand cut dovetails to the top with an angled chamfer to the curved front edge. Length 45cm (18″), Width 25cm (10″), Height 40cm (16″). Dove-table No. 93. This table has been sold but can be made to order priced at £225.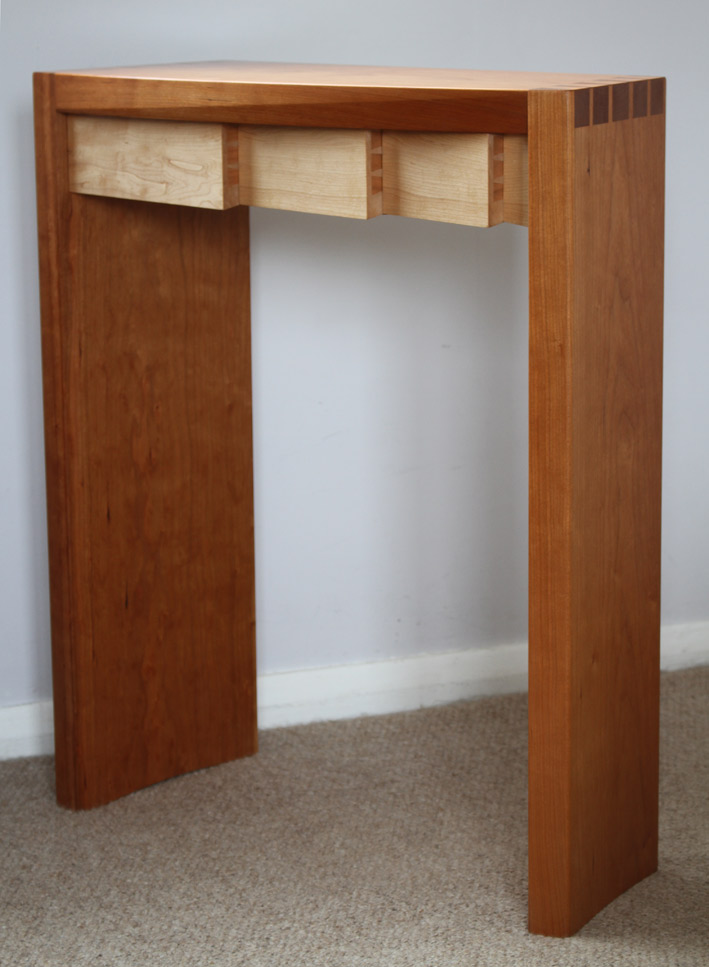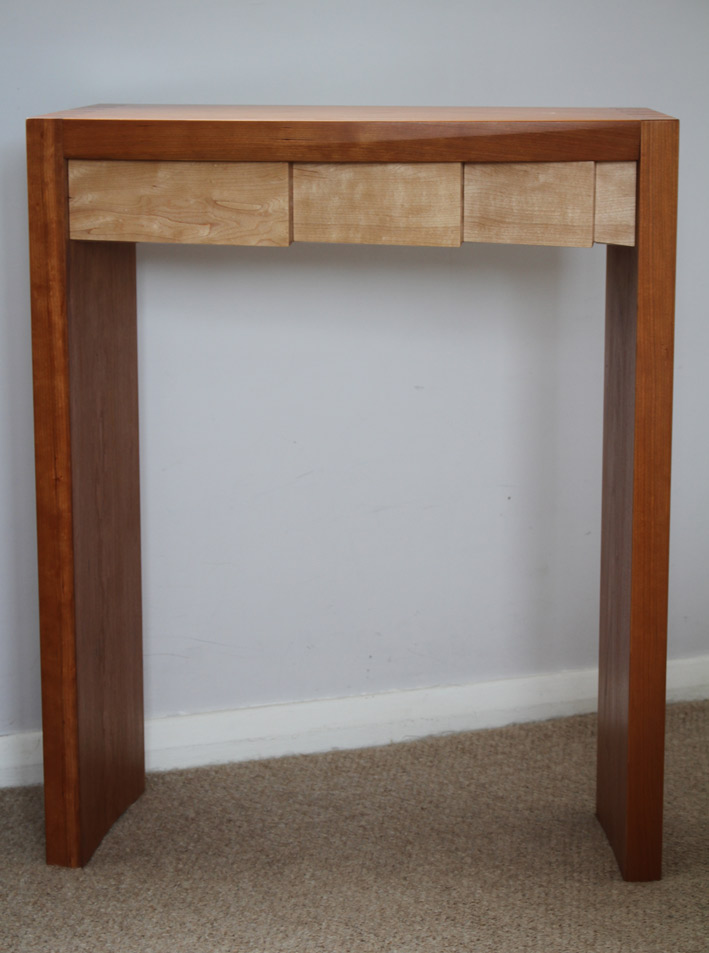 A console Dove-table with three graduated stepped drawers (designed in order to expose the front dovetails on the right side of each drawer). It is made out of solid N. American Cherry with contrasting solid Maple drawer fronts and features traditional 90 degree and oblique hand cut dovetail joints to the top with an angled chamfer to the curved front edge as per the 'classic'. The drawers are also traditionally made (also using solid cherry sides and bottoms) with hand cut dovetails – pulled open via a finger gap behind the bottom edge of each drawer. Length 60cm (24″), Width 32cm (12.5″), Height 70cm (27.5″). Dove-table No. 86. £795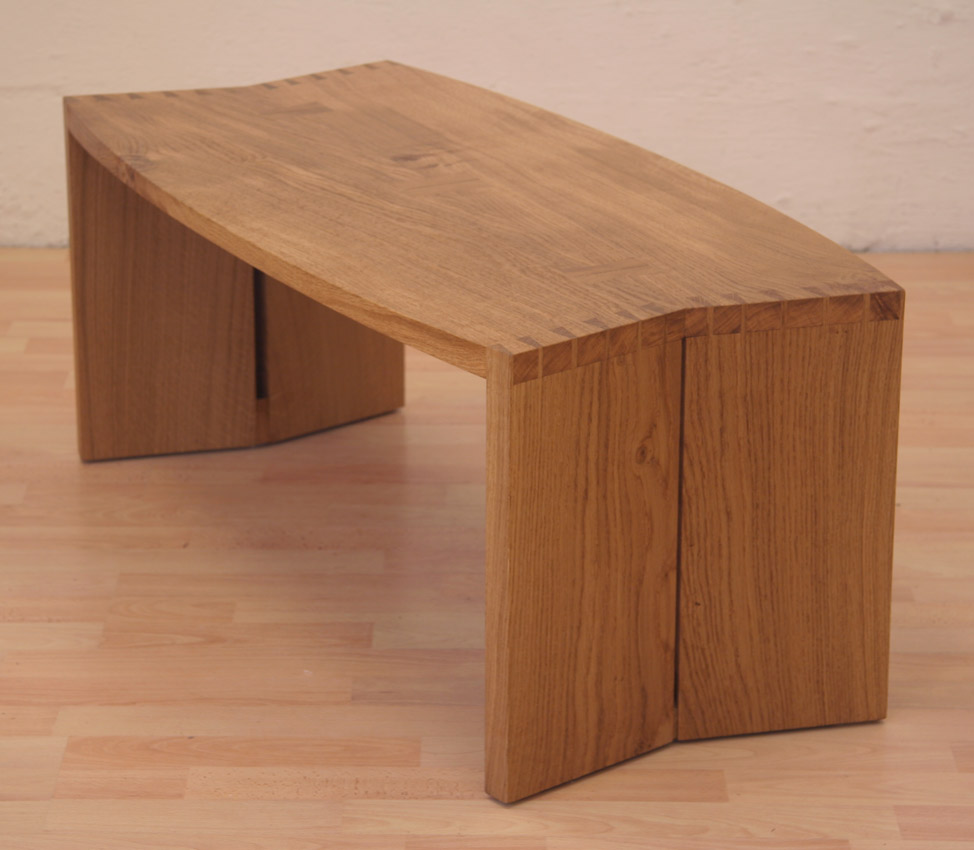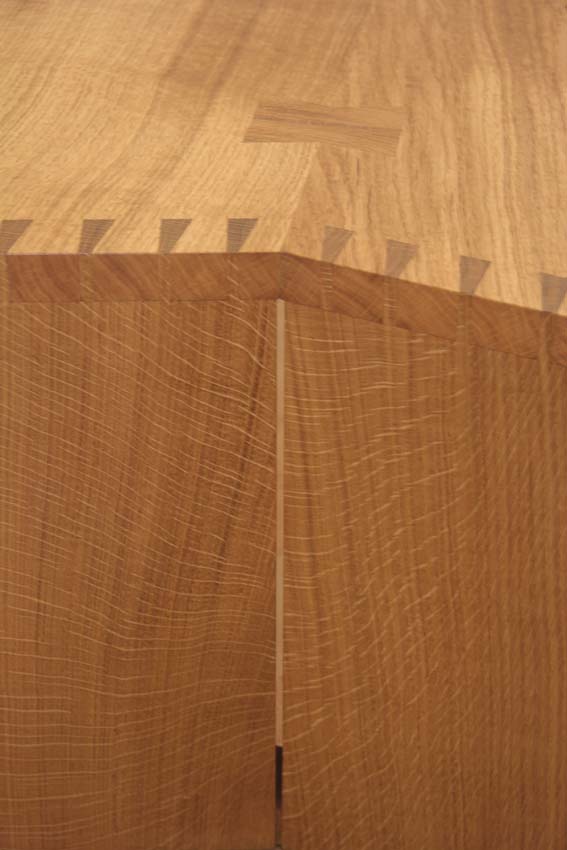 The Dove-table above is of a symmetrical design with 3 decorative wedged dovetailed  'cleats' to the top – a traditional joint for table tops. It is made from solid European Oak with hand cut oblique dovetail joints at each end. There are chamfers on the underside of each curved top edge. Length 100cm (39″), Width 50cm (20″), Height 40cm (16″). Dove-table No 87. This piece has been sold in 'Artifex', The Mitchell Centre, Sutton Coldfield, West Midlands B75 6NA.
A long symmetrical Dove-table designed for LED TV and audio equipment with one adjustable shelf (extra shelves are optional). Made in solid European Oak with oblique hand cut dovetails to joint the top to the legs. The front of the shelf has a concave curve in contrast to the convex top edge curve, both with chamfers on the underside. Length 105cm (41.5″), Width 39cm (15.5″), Height 38cm (15.5″). Dove-table No. 82. This piece has recently been sold – but can be made to order to any given size.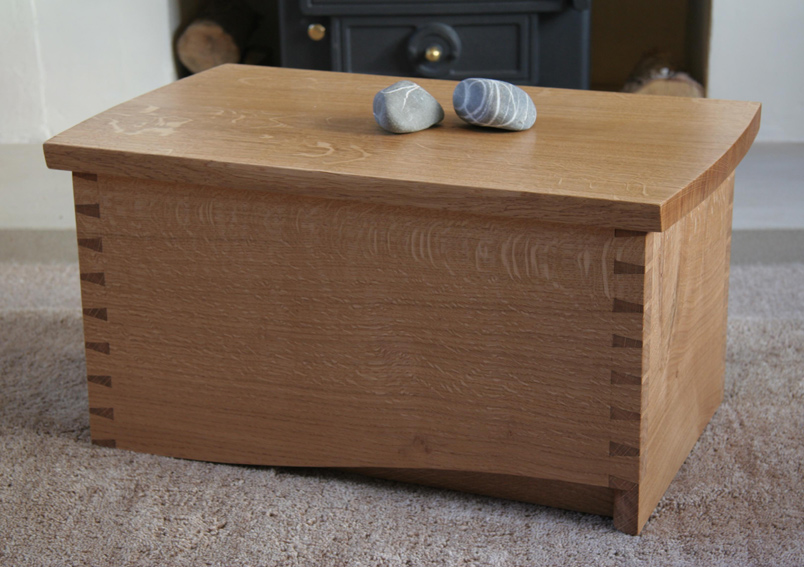 A dovetailed storage chest with 'wave' detail to the base. This piece is made in solid quarter sawn English Oak and has the beautiful 'figured' grain that makes this wood so appealing. Featuring graduated hand cut dovetails on both long sides.  Length 55cm (22″), Width 33cm (13″), Height 28cm (11″).  Made to order priced at £595. This chest has subsequently had the word 'Family' carved into the top, shown below.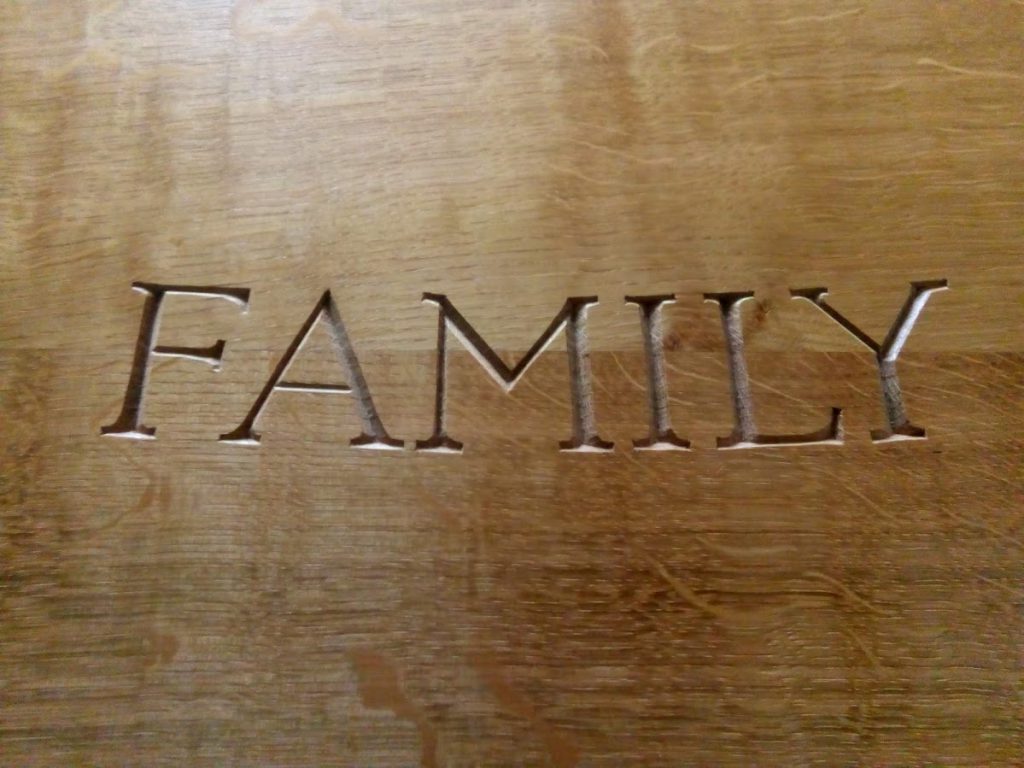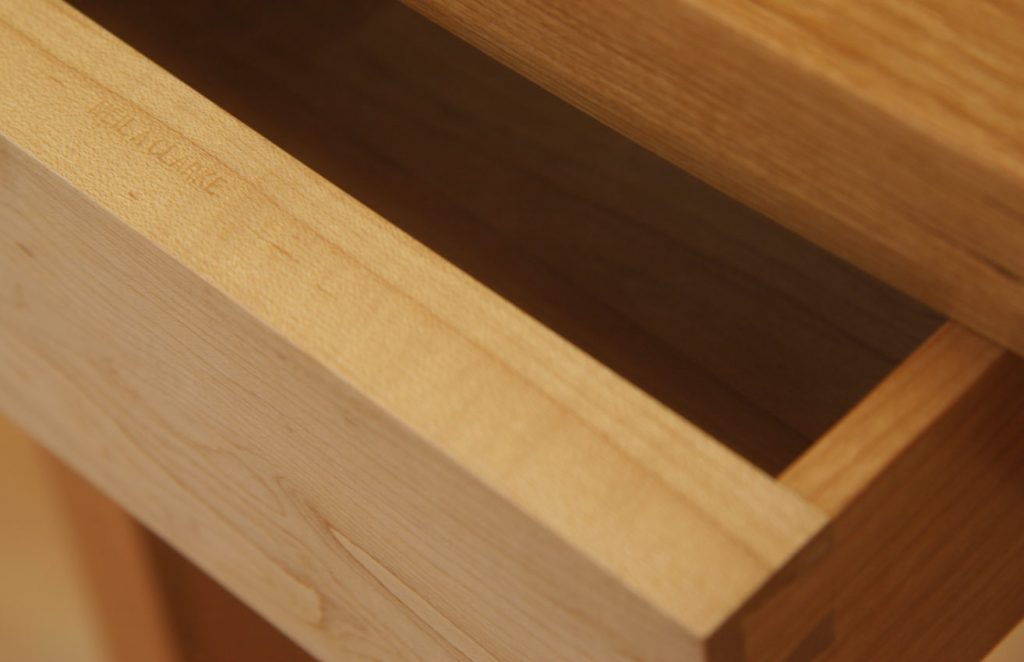 All the 'Dove-tables' shown above have been numbered (consecutive) and stamped with my makers name (the latter as per all my furniture produced from the mid 1980's onwards – seen in the picture above). The sizes given are approximate. Each piece of furniture is normally sealed for long lasting protection using several coats of 'Liberon' finishing oil and finally given a polished sheen using bees wax. Other finishes and stains are available. Replicas can be made to different sizes to suit customers requirements. Our electricity is u.k.supplied by Good Energy – all the power tools used to create these pieces used 100% renewable electricity – goodenergy.co.uk.
Payments for he above furniture (apart from those currently for sale in the aforementioned galleries) can be made by cheque (sent in advance of collection/delivery) or cash on collection/delivery.  Payments can also be made via BACS or by using PayPal. For the latter, send an email that includes the name and description of the piece you wish to purchase (including the unique Dove-table number if applicable) along with the listed price to my email address: neilclarke.artist@btinternet.com – a PayPal invoice will then be sent to your email address with debit/credit card payment options (or make a payment through your own PayPal account).
Deliveries of furniture from my workshop in the UK start at £30 per item (outside a 30 mile radius of Ashbourne, Derbyshire, UK).
All images – Copyright © Neil A Clarke. Any form of reproduction, transmission, manipulation, display or other usage without permission is strictly prohibited.
Save
Save
Save
Save
Save
Save
Save
Save
Save
Save
Save
Save
Save
Save
Save
Save
Save
Save
Save
Save
Save
Save
Save
Save
Save
Save
Save
Save