I specialise in painting landscapes and architectural studies (inc. house and garden portraiture). Commissioned work has been produced for individuals and organisations for a number of reasons.
They can make great personal gifts for people with important birthdays.
Unique presents for those who are retiring, moving house (but would like a representation of their former home or business).
Or for someone who might find it very difficult (through illness or lack of mobility) to access a memorable view or place and would treasure a uniquely observed painting or drawing as a reminder.
I also welcome illustration work, either as line drawings or paintings, for historical, architectural and landscape publications.
My preferred painting medium is watercolour on paper (the general composition is agreed first with the customer before the painting process begins), but I can work in other mediums of choice including oils. I can also produce observational line drawings/illustrations for architects and charitable organisations who need someone to record, for example, historic buildings/sites that are under threat of demolition/removal or visualisations from 2D elevation drawings.
I mainly work from my own photographs and sketches completed on site but I can work from good quality photographs provided by the customer. Prices start at around £295 (excluding picture frame) depending on size, medium and distance travelled for site visits etc. (allowing approx. 3-4 weeks before completion depending on medium used).
Shown below are examples of some recent and archive commissioned work.
St Oswald's Church, Ashbourne
Commissioned as a wedding present for a young couple whose marriage took place in the church in 2019 (a couple of large trees that obscured the central windows were not painted).
watercolour on paper
Portrait of a Former Farmhouse, Marston on Dove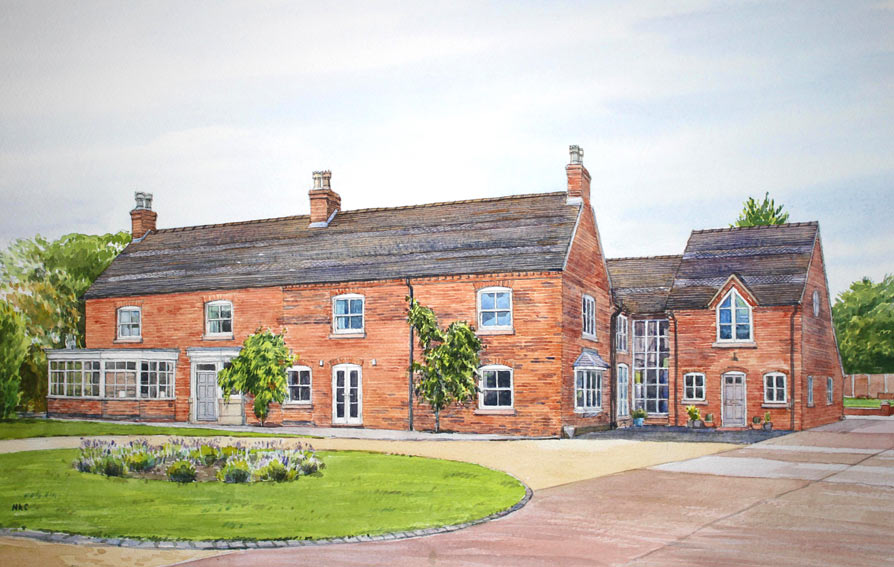 Commissioned as a 50th birthday present by a friend of the farm owner.
Portrait of a Nursing Home near Ashbourne, Derbyshire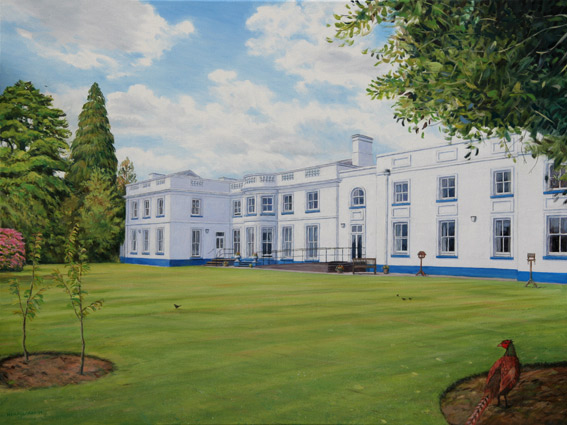 Commissioned by the staff of the former St Mary's Nursing home after it was refurbished (it has since become a business centre).
oil on canvas – 76 x 102 cm (30 x 40 inches)
Portrait of a Period House in Wirksworth, Derbyshire
Commissioned by a daughter as a present for her mother who proudly owned this very unique house.
watercolour on paper
"Neil came up with an imaginative way of showing 2 sides of my mother's house in the same picture, and a lovely touch of painting my mother walking round the house as well. His attention to reflections adds a lot of work for him in the painting, but gives the pictures added depth. I thought the painting was very good value, considering the time it must have taken him to do." Mrs C.Tacon of Cheshire.
Ashover Medical Centre, Derbyshire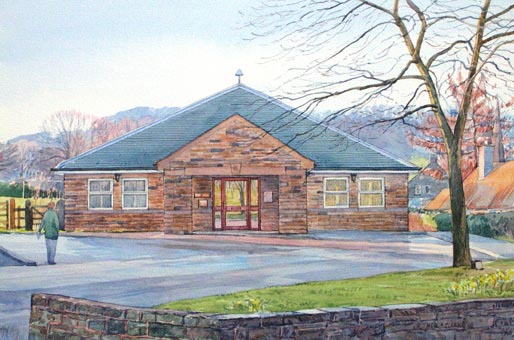 Commissioned as a leaving present for a retiring GP.
watercolour on paper
"The recipients of the watercolour, and the charity trustees were delighted by your painting. "A wonderful painting", " An excellent depiction of the building", "We will cherish this lovely painting", " The artist has captured for ever the spirit and emotion that went into the establishment of the Medical centre". These are just some of the comments that were said when your painting was presented to the retiring Doctor and his wife." Mr P. Clark – a Trustee and Secretary of Ashover Primary Care Charitable Trust
Bunster and Thorpe Cloud from below Blore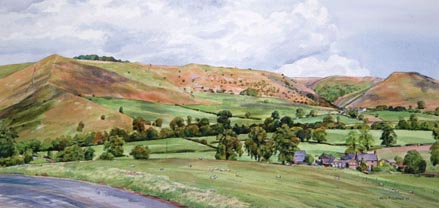 Commissioned for an elderly mother who was unable to travel.
watercolour on paper
"I wish you could have been with us when we unwrapped your picture for mum last Sunday because she was so obviously delighted with it. It's now hanging in her room and will be the first thing she sees on waking up – and that was the object of the exercise… Sincere thanks thanks again for all the time and effort you put into mum's picture. It was most definitely worth it as the end result has been such a great success." Mrs E. Hind of Derbyshire
Victorian House, Rotherham, Yorkshire
This Victorian home was painted for the owner as a gift from her daughter before she downsized to a smaller home.
watercolour on paper
Cressbrook Mill, Derbyshire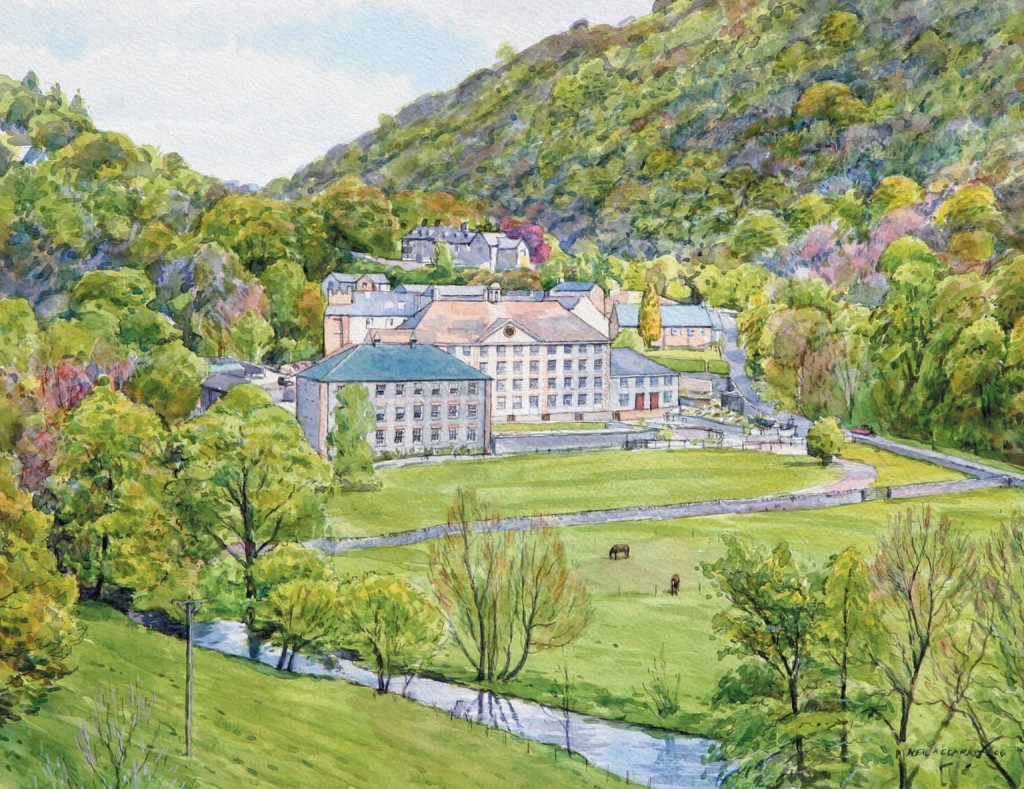 Commissioned as a wedding present.
watercolour on paper
"The service is always fantastic! Neil does everything we ask and always produces wonderful paintings. His easy going manner and "nothing is too much trouble" attitude really made us feel confident that the final result would be something special." Mrs S. Clark of Cornwall
The Red Lion Public House, Kniveton, Derbyshire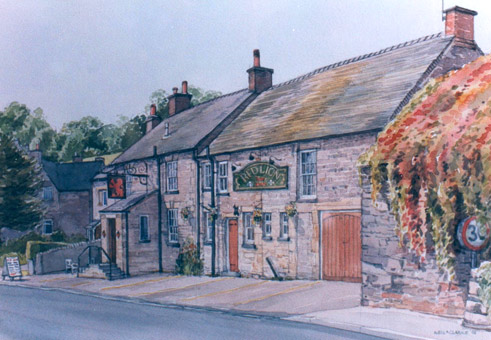 This watercolour was painted for the owners of the pub in the 1990's and was displayed in the bar while they were the publicans.
watercolour on paper
The Derby Hippodrome Theatre (circa 1919)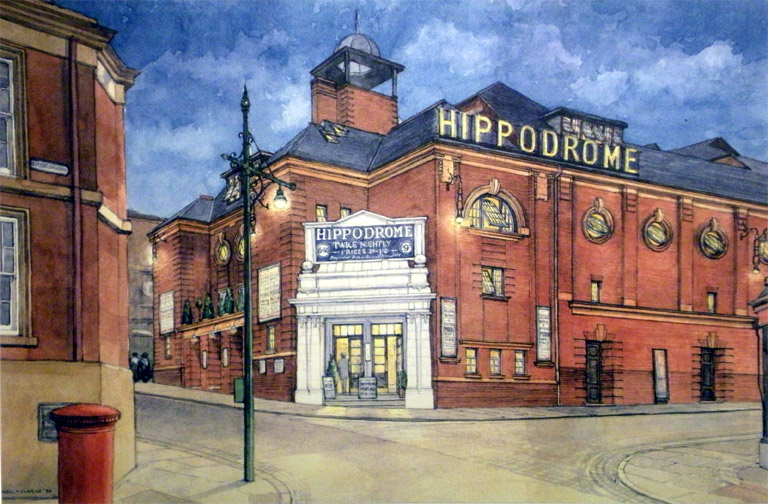 Commissioned by a gentleman who was the son of the film projectionist (when the theatre was used as a cinema) who asked me to paint the Hippodrome as it appeared on the first opening night in 1919. This painting helped to get it a Grade 2 listed building status when it was nolonger used as a bingo hall in the 1990's. Unfortunately it has been so badly damaged in recent times that it is now sadly very probably beyond economic repair.
watercolour on paper
The Pike Pool, Beresford Dale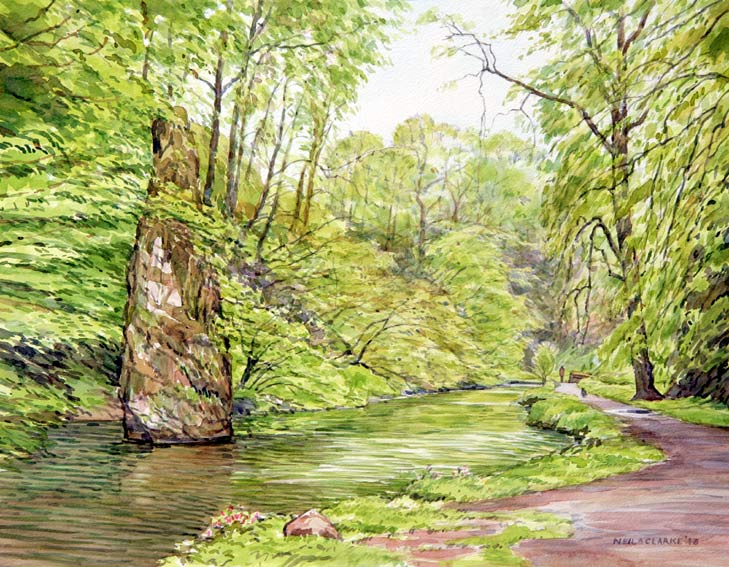 Commissioned as a 60th birthday present.
watercolour on paper
"I am absolutely thrilled with the painting, thank you so much. I am sure he will feel the same way too. If ever I need another one, I can assure you that I will be contacting you, as indeed I will recommend you to friends etc." Mrs. P. Degg of Staffordshire
House & Garden in Kniveton, Derbyshire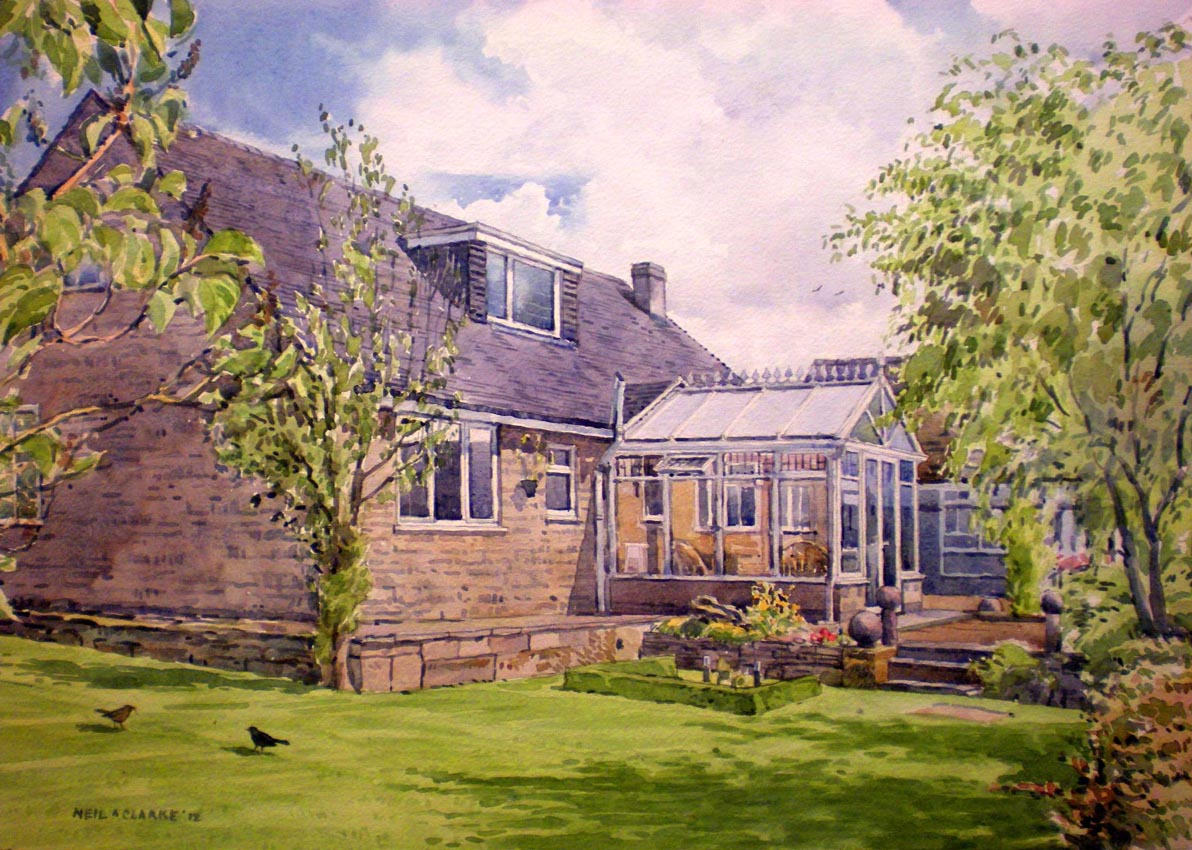 Commissioned as a 60th birthday present using the customers own original photograph as reference material.
watercolour on paper
The Old Vicarage, Ashbourne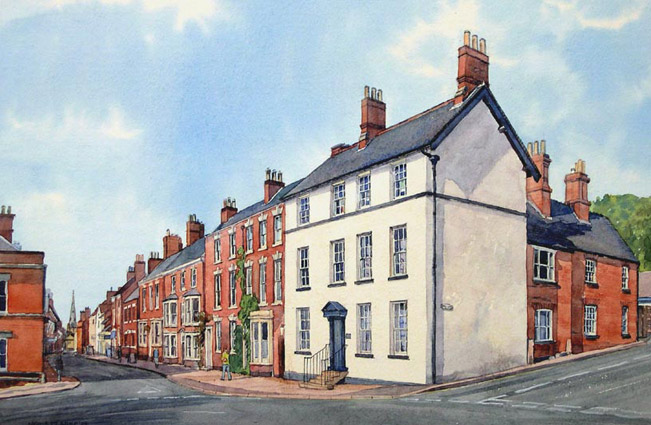 Painted as a retirement present for a Chartered Accountant who originally converted the former rectory building into their business offices. watercolour on paper
Alison's Allotment Garden, Derby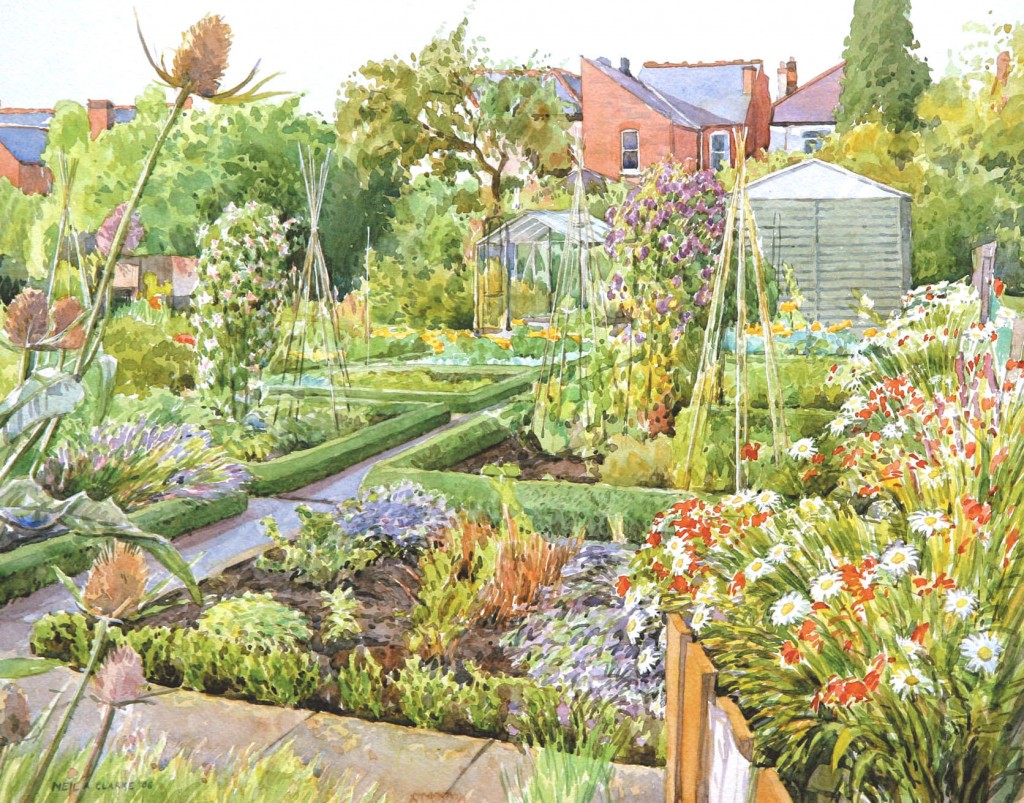 Commisioned as a birthday present for the allotment holder.
watercolour on paper
Stepping Stones Shoe Shop, Ashbourne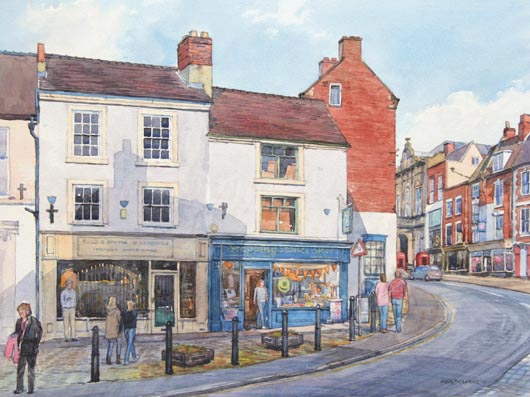 Commissioned as a leaving present upon selling the business.
watercolour on paper
Brailsford Common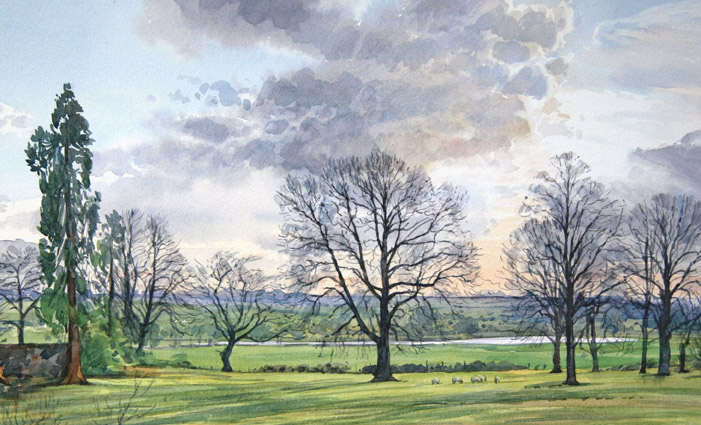 Commissioned as a leaving present for a former vicar of Brailsford Church
watercolour on paper
House and garden portrait at Rosliston
Commissioned as a birthday present.
watercolour on paper
House and Garden Portrait at Ellastone, Staffordshire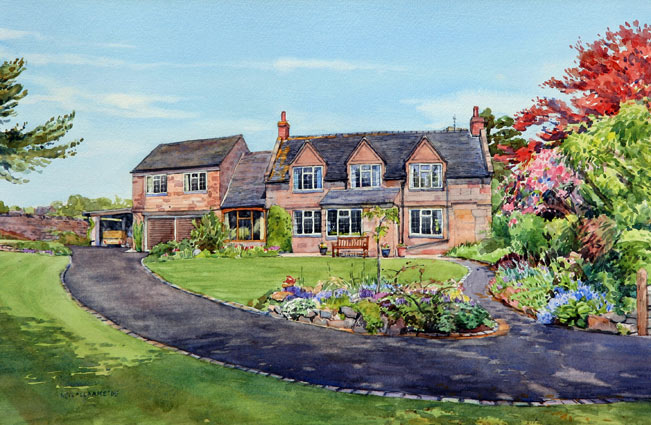 Commissioned by the proud owners of the property.
watercolour on paper
Cottage and View from Over Haddon, Derbyshire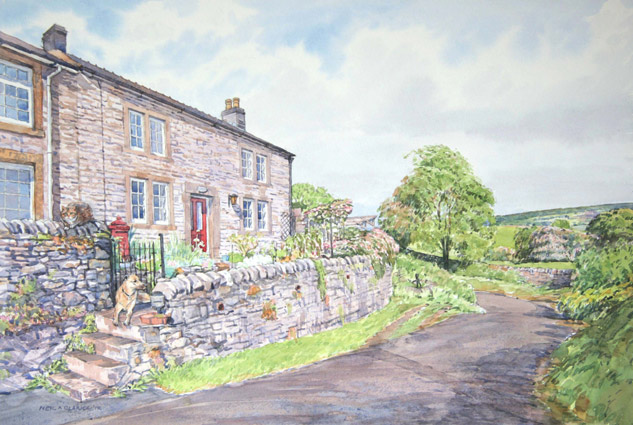 Commisioned as a 60th birthday present for the owners who were contemplating moving away from the village (pets also included).
watercolour on paper
Haymaking in the 1950's

Commissioned by the son of the gentleman in the painting (painted from their own treasured black & white photograph).
watercolour on paper
All images – Copyright © Neil A Clarke. Any form of reproduction, transmission, manipulation, display or other usage without permission is strictly prohibited.