News of exhibitions, whether solo or in groups, that either my artwork or furniture are featured.
In September I delivered three pieces of my handmade furniture designs to Artifex (The Mitchell Centre, Sutton Coldfield,  B75 6NA), displayed for sale in their beautiful contemporary furniture gallery. They have four items of my furniture at present which are shown below.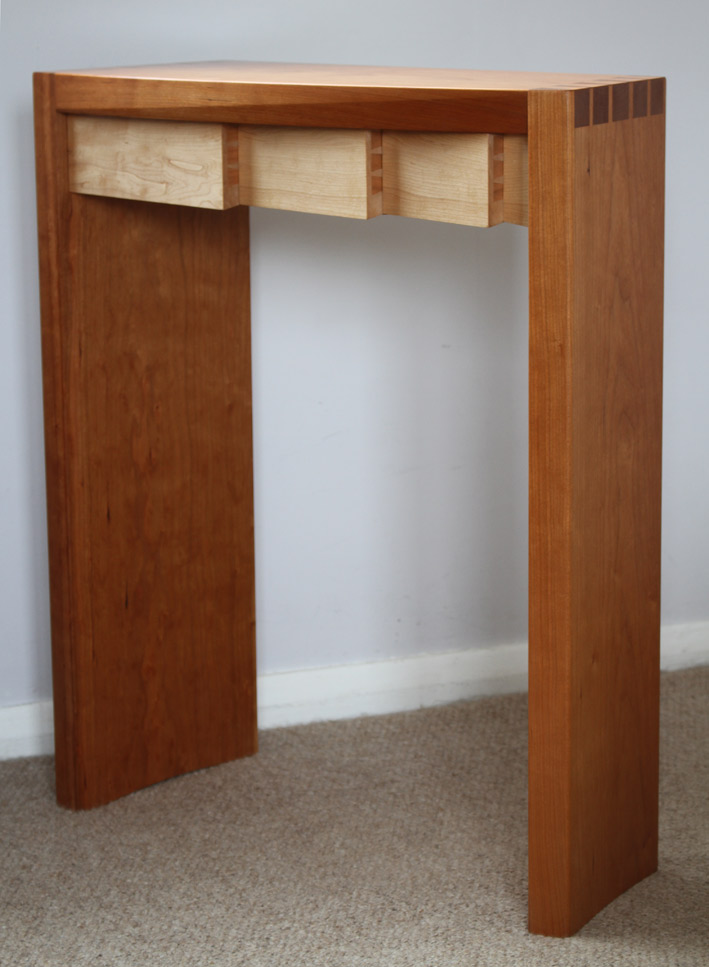 Console table with three drawers in solid cherry and maple.
A 'Dove-table' in solid oak.
Parallelogram nest of two tables in solid oak.
Small storage chest in solid oak.
Dame Catherine Arts Summer Exhibition 2020, Ticknell, Derbyshire. I had 8 of my paintings displayed in this online exhibition, organised by staff and friends of Dame Catherine Harpur's School, a charity event held each year since 1993 to raise funds for the school. The website is www.arts.damecatherines.org.
I displayed 12 original watercolours of landscapes with trees 'Rooted in the landscape' in Ashbourne Library until 17th March 2020.
The titles shown were –
Sketch #2 of the Stepping Stones, Dovedale (plein air 2011 NC 284)
Coldwall Lane below Thorpe (NC 313)
Lees Barns Trees, Biggin by Hartington (NC 314)
January Mist, Tissington (NC 318)
Autumnal Beeches, Ilam Park (NC328)
Hazelton Clump above Ilam (NC 331)
Winter Trees nr Sturston (NC 333)
Peak Tor Trees nr Rowsley (NC 335)
Thors Cave above the Manifold Valley (NC 343)
November Sunset over Ashbourne (NC345)
Stepping Stones in Dovedale (NC 346)
Spring sunshine below Winster (NC 362) Sold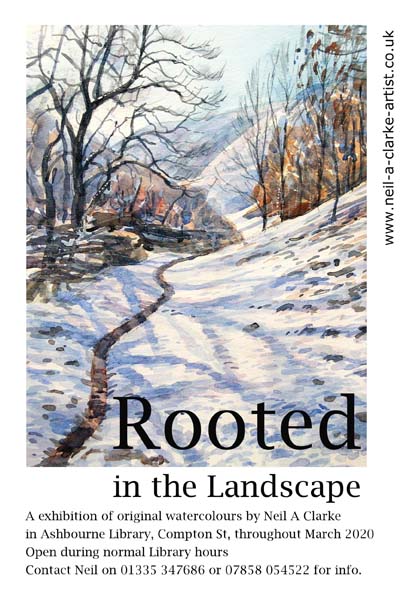 I exhibited 17 of my original large paintings inside St. John's Church, Buxton Road, Ashbourne during the 2019 summer Arts Festival (I was invited by the church's trustees). Both my landscape paintings and reflection studies were shown, hung on opposite sides of the church, while the building was used a festival venue.
Two of my paintings were exhibited in the 2019 Ashbourne Open Art Exhibition in the Town Hall as part of the Arts Festival.
Arts Festival 2018 – Open Art Exhibition to be held in the Town Hall. I submitted one painting – Derby Cathedral Entrance Reflections II.
In Sept. 2017 I staged a week long exhibition of my paintings and dovetailed furniture at the Cromford Mills Gallery Space, Cromford Mill, Mill Lane, Cromford, Derbyshire.
The water powered Cromford Mills are situated by the River Derwent and were originally founded by Sir Richard Arkwright in the 18th century. It is considered to be the birth place of the Industrial Revolution (with other nearby mills along the Derwent Valley running through the centre of Derbyshire) and is now a protected World Heritage Site. The mill complex is well worth a visit not only for its history – there is also a cafe and gift shop (who stock my cards) you run by the Sir Richard Arkwright Society (a charitable organisation) and various other retail outlets. Visit www.cromfordmills.org.uk for more info.
In 2016 I exhibited several pieces of my dovetailed furniture in 'Joy in Colour and Craftsmanship' at Foxlowe Arts Centre, Leek, Staffordshire, alongside wonderful abstract paintings by Geoff Machin and innovative textiles designed by Sarah Golding.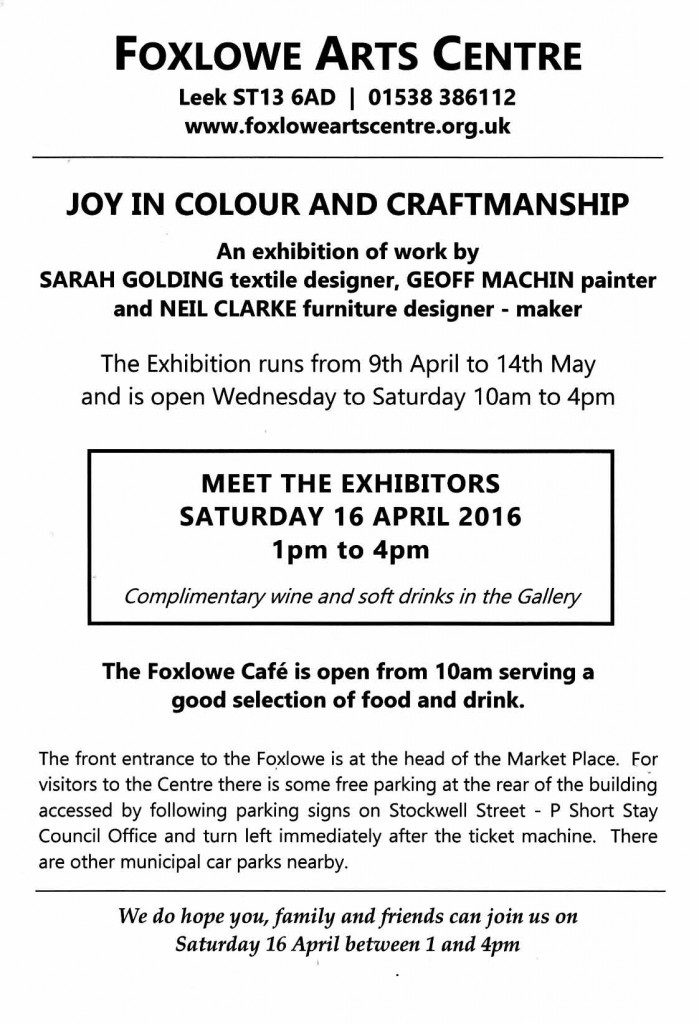 My work can be made available for exhibitions in the UK.
I have previously exhibited my paintings and furniture work in the following:
The Bonnington Gallery, Nottingham
Nottingham Castle Art Gallery (City Open)
Derby City Art Gallery and Museum
The Royal Birmingham Society of Artists Gallery, Birmingham
(1st) British Craftsmanship in Wood Exhibition, Cheltenham, Gloucestshire
The Workshop Gallery of Gary Olsen (Furniture Designer & Maker)
The Ferrers Gallery, Staunton Harold, Leicestershire
Rufford Craft Gallery, Nottinghamshire
Artizana Furniture, Prestbury, Cheshire
Artifex, The Mitchell Centre, Sutton Coldfield, W. Midlands
The Direct Design Show, London
Opus Gallery, Ashbourne (2010 – 18)
Craft galleries that currently stock/sell dove-tables inc. –
Artifex (art & craft gallery), The Mitchell Centre, Sutton Coldfield, West Midlands B75 6NA. Tel:0121 323 3776  www.artifex.co.uk (currently in stock: a set of two parallelogram dove-tables in solid limed European oak).
Save
Save
Save
Save
Save
Save
Save
Save
Save
Save
Save
Save