Ashbourne Arts Festival – Open Art Exhibition to be held in the Town Hall from Saturday 23rd June to Saturday 30th June. I submitted one painting – Derby Cathedral Entrance Reflections II which I am pleased to say has been picked for the exhibition. I will be stewarding there on the 30th June – 11am 'till 1pm, so would be pleased to talk to anyone who is interested in my work.
I recently staged an exhibition of my recent paintings and dovetailed furniture at the Cromford Mills Gallery Space, Cromford Mill, Mill Lane, Cromford, Derbyshire..
The water powered Cromford Mills are situated by the River Derwent and were originally founded by Sir Richard Arkwright in the 18th century. It is considered to be the birth place of the Industrial Revolution (with other nearby mills along the Derwent Valley running through the centre of Derbyshire) and is now a protected World Heritage Site. The mill complex is well worth a visit not only for its history – there is also a cafe and gift shop run by the Sir Richard Arkwright Society (a charitable organisation) and various other retail outlets. Visit www.cromfordmills.org.uk for more info.
In 2016 I exhibited several pieces of my dovetailed furniture in 'Joy in Colour and Craftsmanship' at Foxlowe Arts Centre, Leek, Staffordshire, alongside wonderful abstract paintings by Geoff Machin and innovative textiles designed by Sarah Golding.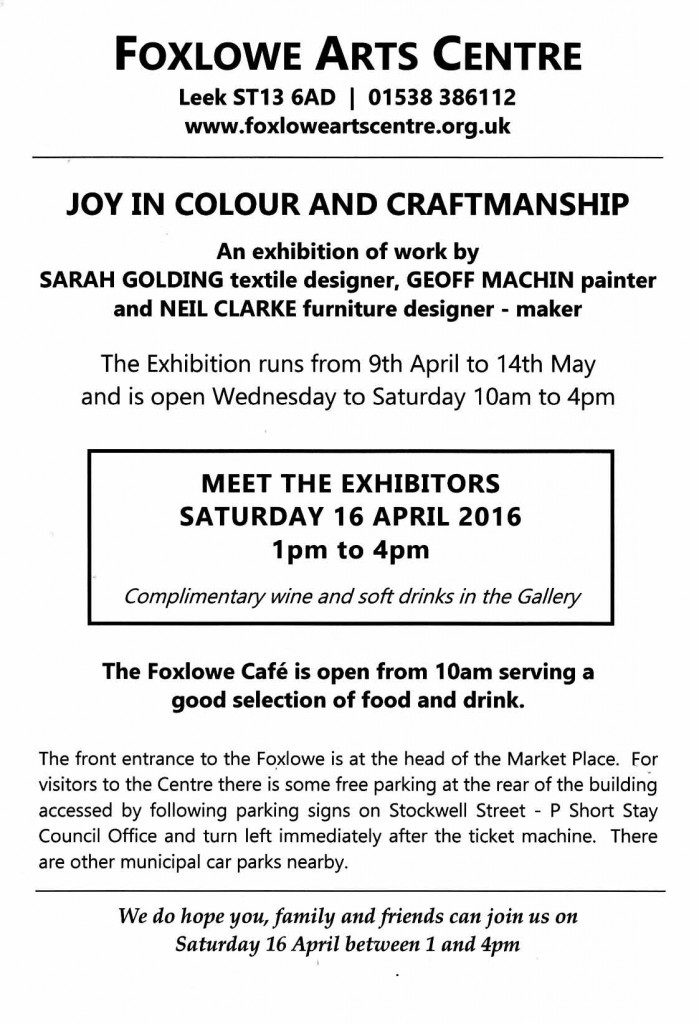 My work can be made available for exhibitions in the UK.
I have previously exhibited my paintings and furniture work in the following:
The Bonnington Gallery, Nottingham
Nottingham Castle Art Gallery (City Open)
Derby City Art Gallery and Museum
The Royal Birmingham Society of Artists Gallery, Birmingham
(1st) British Craftsmanship in Wood Exhibition, Cheltenham, Gloucestshire
The Workshop Gallery of Gary Olsen (Furniture Designer & Maker)
The Ferrers Gallery, Staunton Harold, Leicestershire
Rufford Craft Gallery, Nottinghamshire
Artizana Furniture, Prestbury, Cheshire
Artifex, The Mitchell Centre, Sutton Coldfield, W. Midlands
The Direct Design Show, London
Craft galleries that currently stock/sell dove-tables inc. –
Opus Gallery, St John Street, Ashbourne, Derbyshire DE6 Tel: 01335 348989 www.opusgalleryashbourne.com  (Currently in stock:  1 x 'classic Dove-table in European Oak)
Artifex (art & craft gallery), The Mitchell Centre, Sutton Coldfield, West Midlands B75 6NA. Tel:0121 323 3776  www.artifex.co.uk (currently in stock: 1 Parallelogram Dove-table in solid European Oak and 1 Console Dove-table in solid N. American Cherry with three stepped drawers faced in solid Maple.)
Save
Save
Save
Save
Save
Save
Save
Save
Save
Save
Save
Save