A range of solid wood furniture made with hand cut dovetail joints – contemporary sculptural designs that highlight the natural beauty of wood grain. Mainly consisting of 'Dove-tables' that can be used as coffee tables or placed at the side of armchairs and used as side tables. Taller versions are available as console tables for the hallway or writing desks for the study or office – with or without drawers or shelves. They are designed to be sustainable and user friendly pieces of furniture and made to last and look good for many generations to come. The Dove-table below was hand made in solid European oak to order.
Traditionally made to the highest standards of craftsmanship, Dove-tables are mainly made from either kiln dried European oak or N. American cherry. They can be made to any given size and ordered directly from my studio workshop or from high quality retail art & craft galleries (see below). The example above is the 'classic' smaller size Dove-table (asymmetrical in plan) which is the most popular design. The photograph below shows the first ever 'Dove-table' made in solid N. American Cherry in the 1990's as an asymmetrical TV stand to fit in the corner of a room.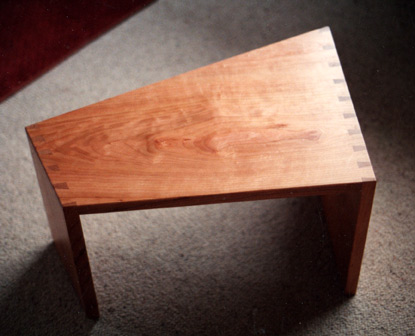 The very strong joint featured in their construction is the 'through dovetail', both 90 degree and oblique dovetails which I mark out and cut by hand (see bottom of page) – a classic, very strong and decorative way of jointing solid timber that has been used for centuries. The Dove-table below has a 'limed' finish to stop the wood darkening with age.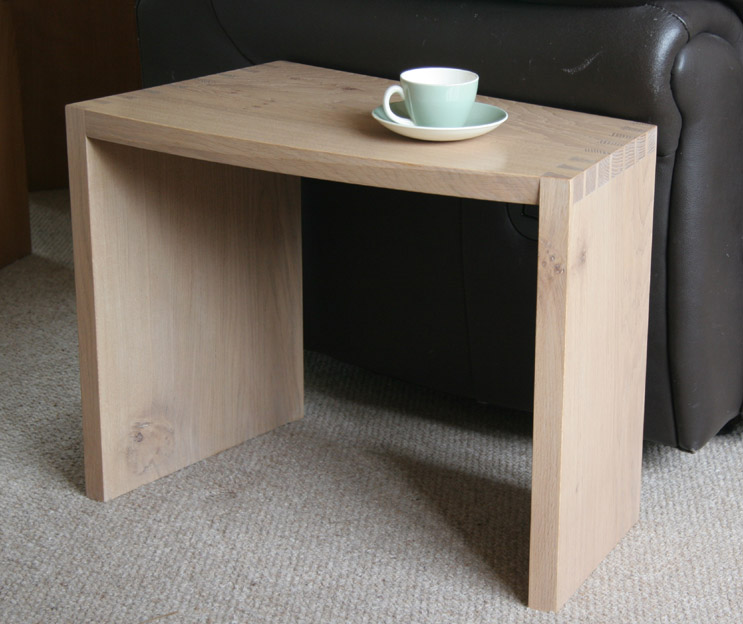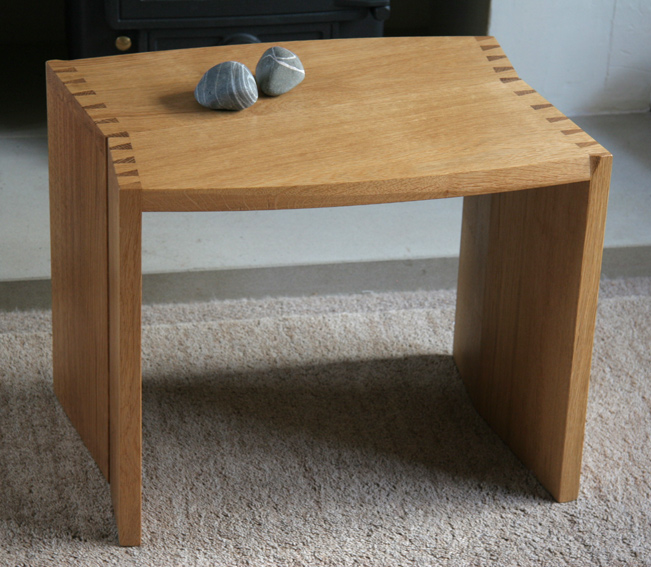 The photo above shows two singles joined together to form a wider 'double' table. Prices of the smallest tables start at around £200 each in seasoned and Kiln-dried solid European oak. They are finished with several coats of highly protective 'Liberon Finishing Oil' and finally polished with wax (they can be limed or stained first if required). Shown below are a 'nest' pair of symmetrical tables in solid European Oak.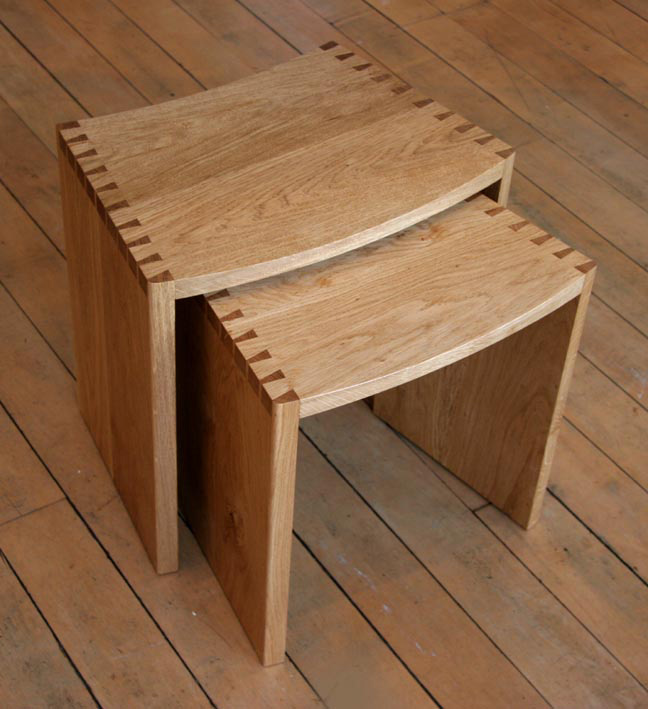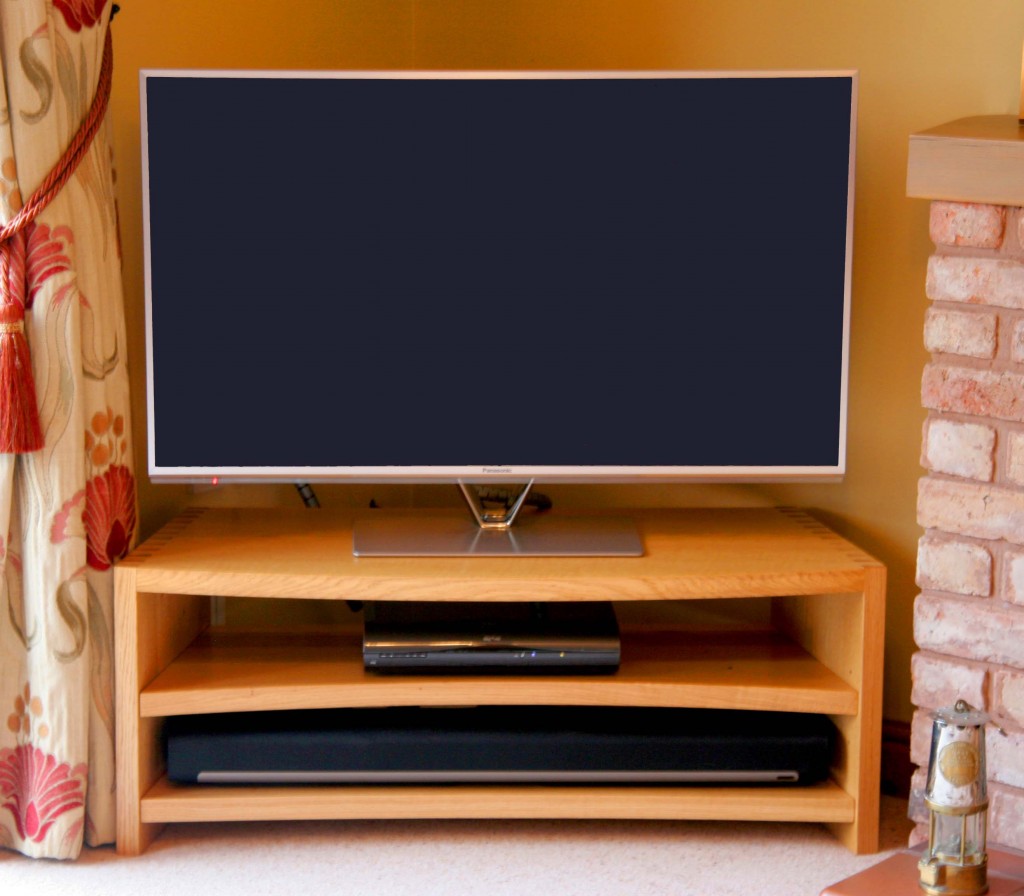 Shown above is a large symmetrical Dove-table (made from solid European oak) that is ideally suited for audio-visual use with adjustable shelves. Shown below is a smaller symmetrical design (in solid American cherry) with a fixed shelf for magazine and book storage and a recently ordered symmetrical (80cm tall) console Dove-table designed for a hallway in solid 32mm thick European oak.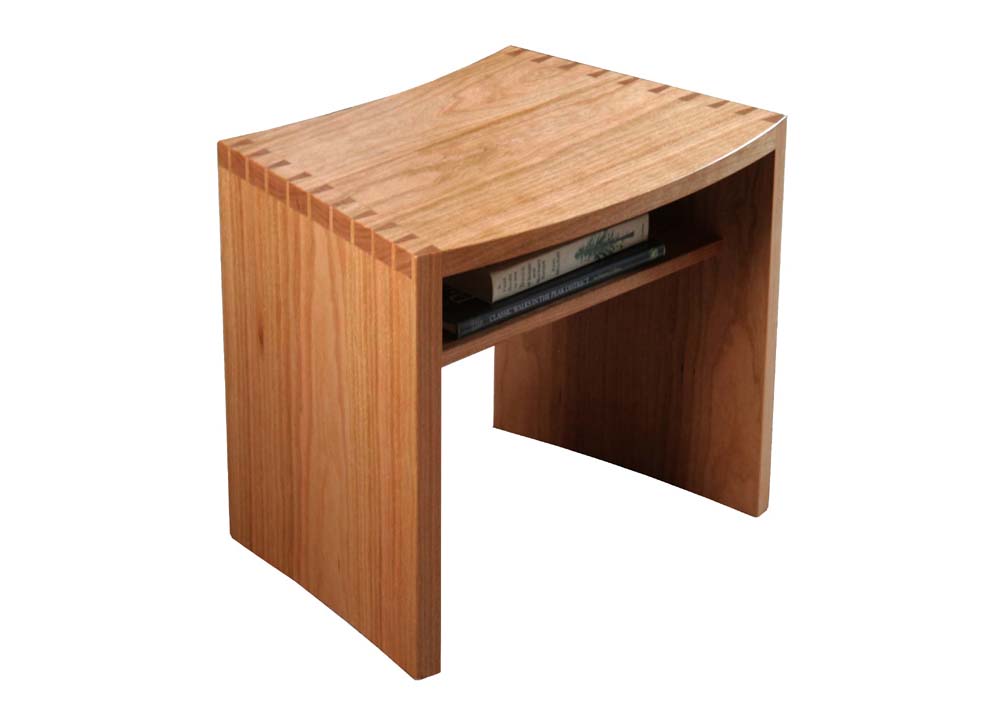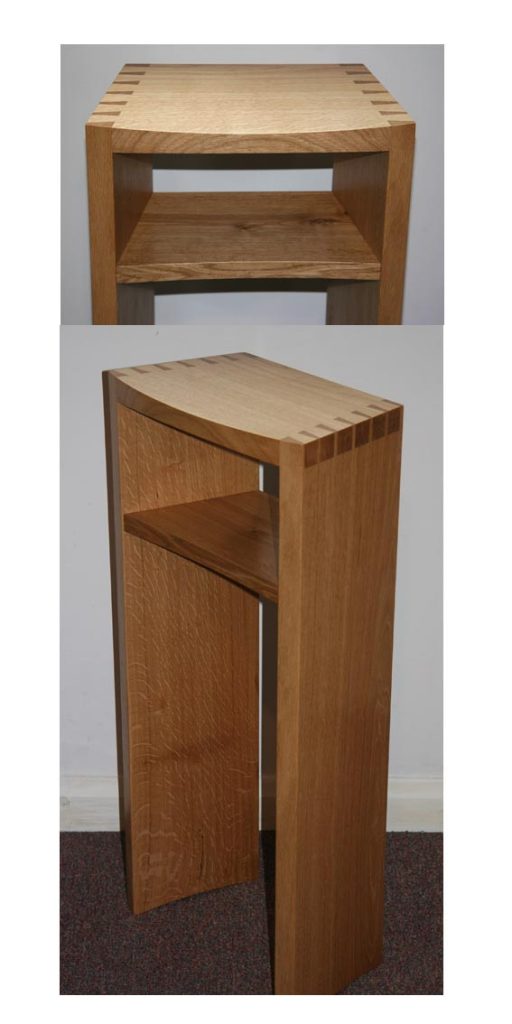 Craft galleries that currently stock/sell dove-tables inc. –
Artifex (art & craft gallery), The Mitchell Centre, Sutton Coldfield, West Midlands B75 6NA. Tel:0121 323 3776  www.artifex.co.uk (currently in stock: 1 Parallelogram Dove-table in solid European Oak and 1 Console Dove-table in solid N. American Cherry with three stepped drawers faced in solid Maple.)
See the sales of furniture page for further details of current pieces on for sale.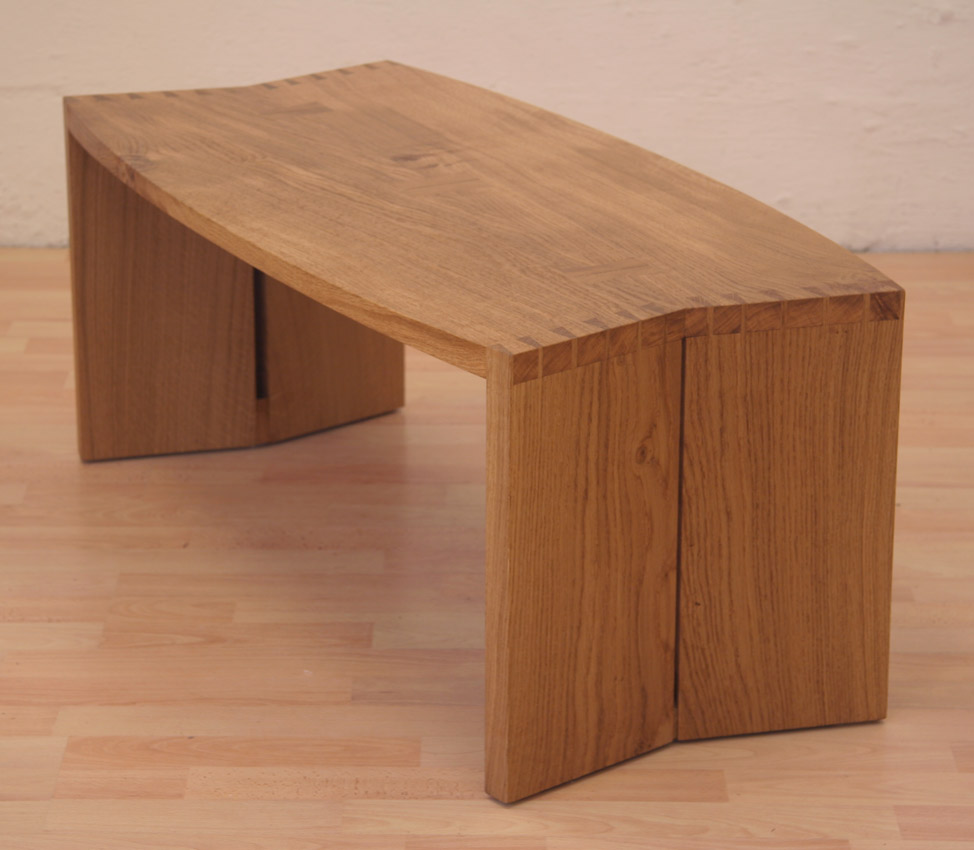 The photo above shows a recently made large symmetrical Dove-table in solid European Oak, the image below shows a tall, square topped, Dove-tabe in solid quarter sawn European oak with mitred dovetail joints at the corners.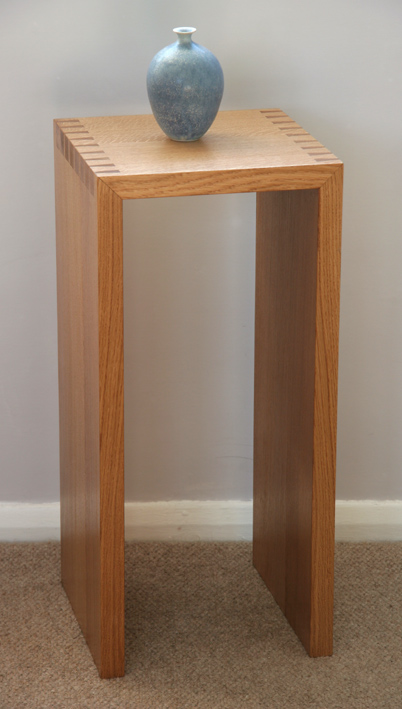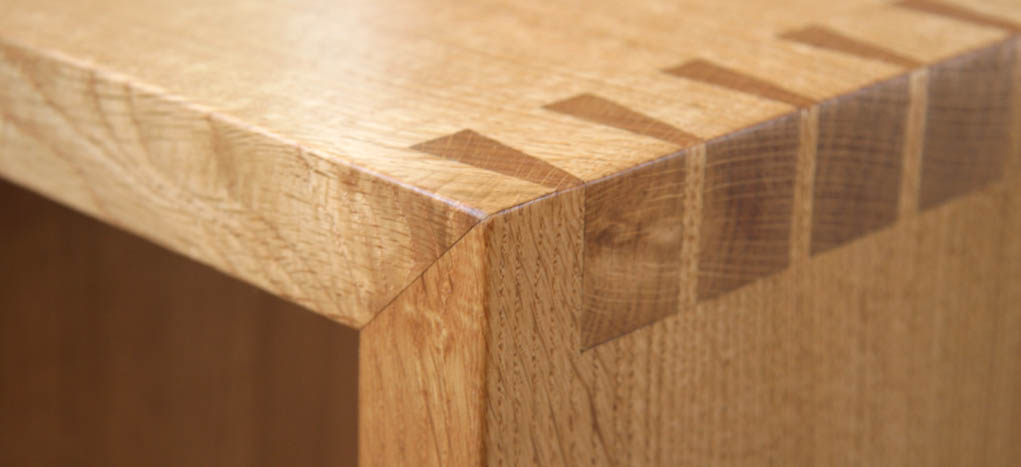 If you would like more information about the bespoke 'dove-table' range, you can get in touch with me through the contact page of this website. 'Artifex' near Sutton Coldfield have some of my dovetailed furniture for sale in their craft gallery, see the exhibition page for more details.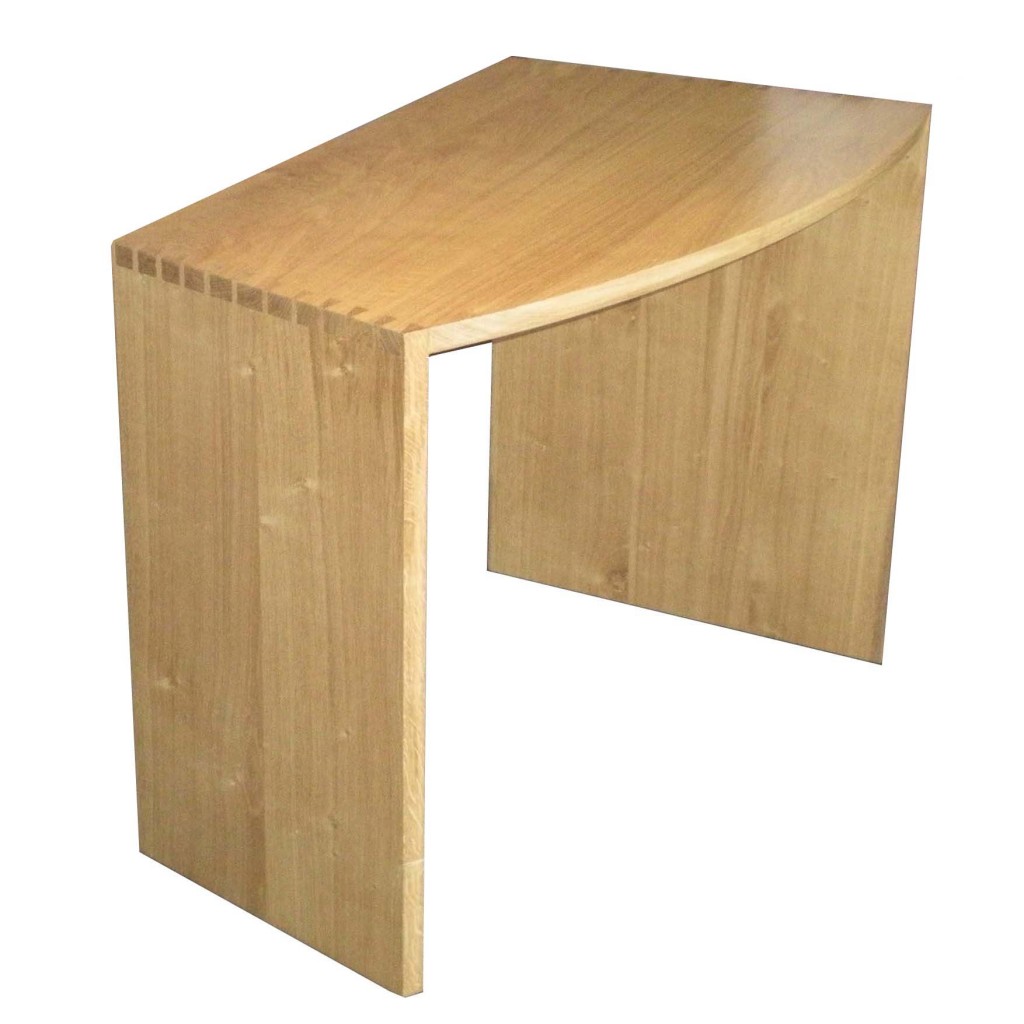 Shown above is a Dove-table writing desk in solid European oak, one of four made for consultation rooms for a private health centre near Derby. Shown below is a Dove-table console unit also in solid European oak with three stepped drawers (designed to display the drawer dovetail joints) faced in natural brown oak.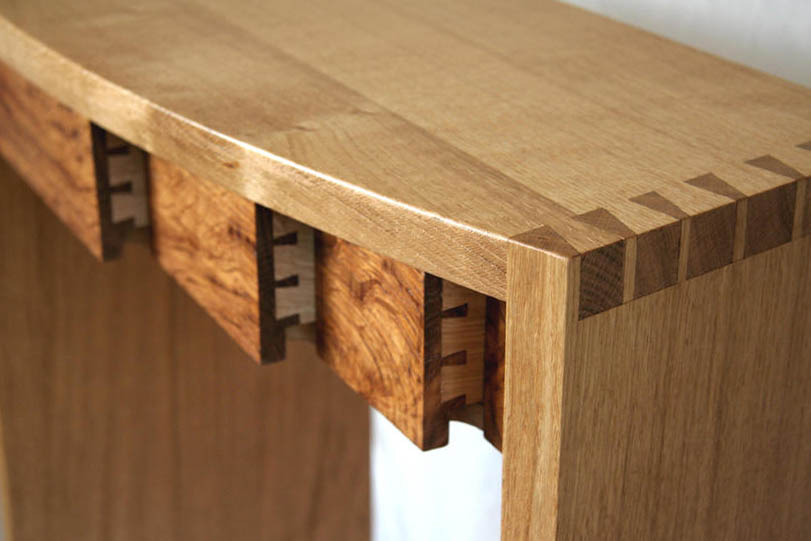 Construction photographs.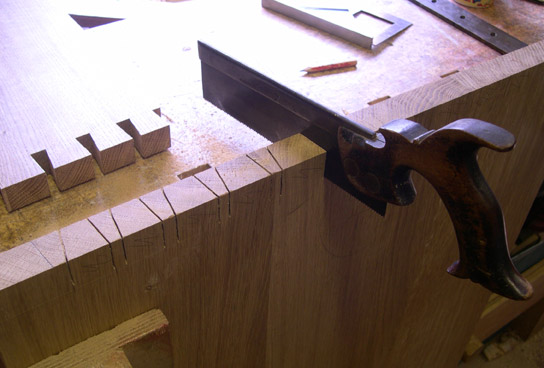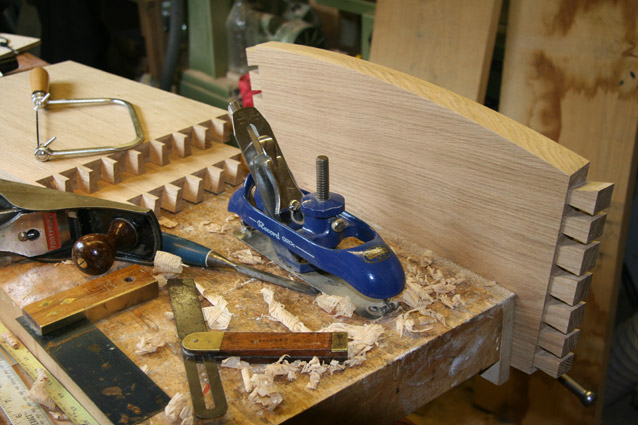 Dove-tables in the process of construction in my workshop – in the top most picture, the 'pins' are being sawn in 35mm oak using an antique tenon saw – in the bottom picture a 'compass' plane (shown on the bench above) has been used to produce the curved diagonal chamfer to the top edge of the 'classic' asymmetrical design table. Letter carving can also be tastefully incorporated into the design to mark an important event, date or anniversary (bottom photograph).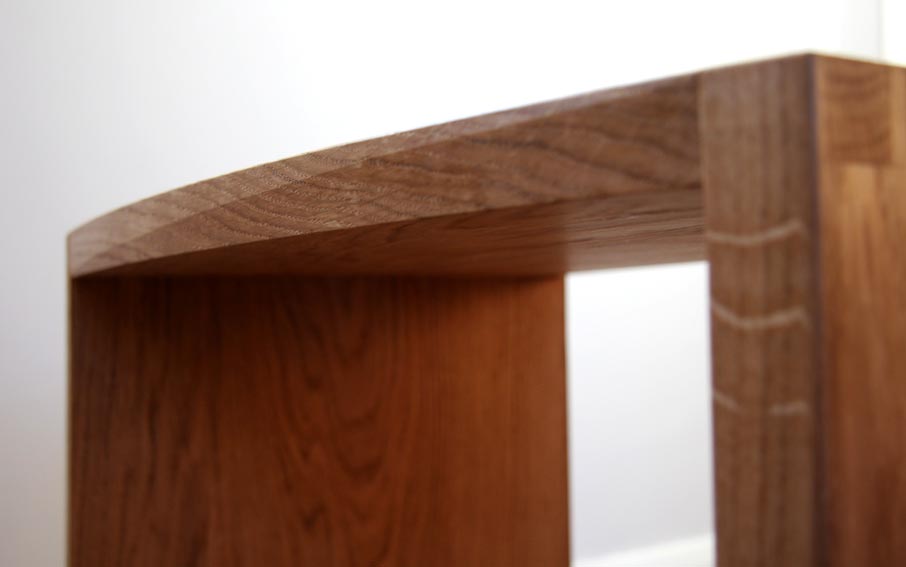 We are supplied with renewable electricity from Good Energy Ltd, which means that all the machinery and power tools used in the construction of each piece are powered by 100% renewable energy sources. For more info visit www.goodenergy.co.uk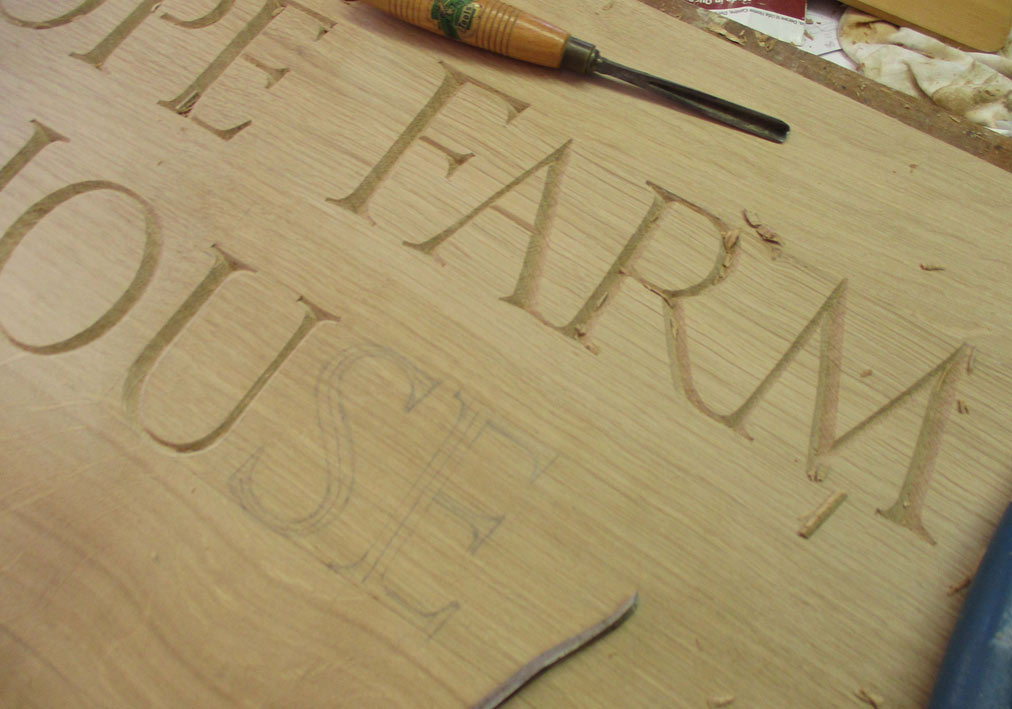 All images – Copyright © Neil A Clarke. Any form of reproduction, transmission, manipulation, display or other usage without permission is strictly prohibited.
Save
Save
Save
Save
Save
Save
Save
Save
Save
Save
Save
Save
Save
Save
Save
Save
Save
Save
Save
Save
Save
Save
Save
Save
Save
Save
Save
Save
Save