I've always wanted to draw and paint images from early childhood onwards. Early influences include my mother (who, before developing dementia, loved to paint and always encouraged me to do so), Rowland Hilder, Charles Tunnicliffe, Adrian Hill, David Gentleman and David Shepherd (we had the latter's famous elephant print above our fireplace in the 1960's). There are too many artists to mention here who have  inspired me since my youth, both from the past and the present, but of late I've been looking at the work of Eric Ravilious and his contemporaries who were commissioned to record (mainly in watercolours) images of military life during the second world war. This often involved close contact with enemy forces – so very rapid sketches were the order of the day for these very brave artists.
The main palette of colours I use now (Winsor & Newton 'Professional' quality pigments) include: Ultramarine Blue, Winsor Blue (red shade), Cadmium Lemon, Yellow Ochre, Alizarin Crimson and Burnt Sienna (I do not add any black or white paint when using a pure watercolour technique). I use white paint to tint opaque oil colours – often painting a layer of white first on areas of sky, followed by pale blue or other colours to the still wet white paint (allowing spaces for clouds).
Watercolour Painting Tuition
I have recently started providing private tuition on painting with watercolours for beginners and improvers at my home in Ashbourne. I am presently taking classes on Thursdays, an improvers class in the morning and a beginners class in the afternoon (the first session is free and the basic materials are provided initially). These will be on going – depending on demand – each class comprising of 5 students. The emphasis is on learning sound brush techniques using a limited palette of professional quality paints (mentioned previously) leading to producing confident looking images based on 'mindful' observation (shown below is a recent demonstration piece that was painted in stages for students to follow over two weeks – 4hrs). If you would like to find out about availability, please get in touch by email (neilclarke.artist@btinternet.com) or tel. 07858054522 to discuss your requirements.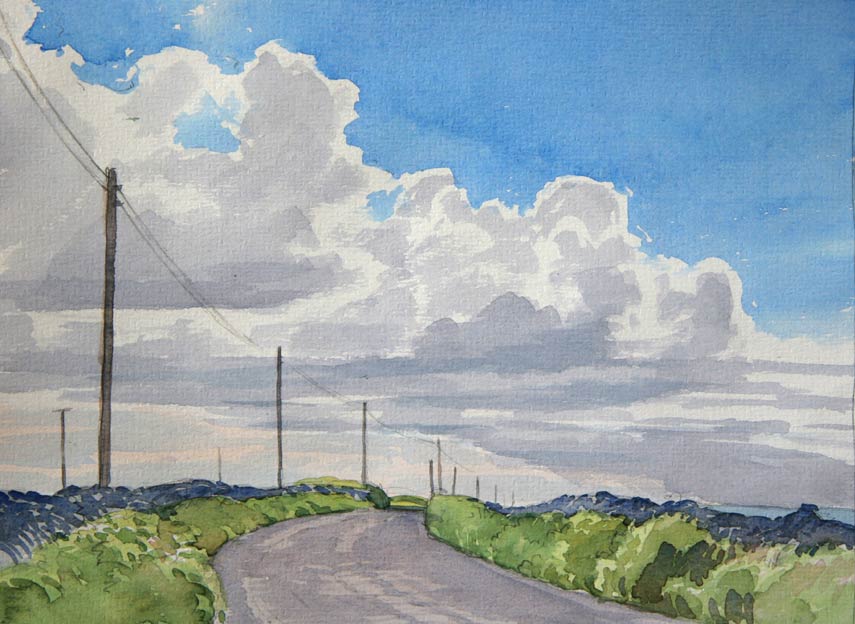 Landscape Paintings
Observational drawing is a very important part of my work, I like to do justice to the scene whether I'm in the studio or outside in the countryside, aiming to capture the unique character and beauty of the area of Britain known as the Peak District. I prefer to produce landscape paintings out on site when possible, the end result of working 'plein air' is a looser more spontaneous approach where I feel that I am as one with the scenery – painting almost subconsciously – yet still aiming to produce finely crafted pieces of artwork that do justice to the scene. I use my own original photographs as reference material for studio paintings, using both digital camera and traditional sketchbook to record scenes when there's insufficient time to paint decent pictures on site. This visual information enables me to produce more detailed figurative landscape studies, concentrating on pictorial composition and the effects of sunlight on the landscape, In 1983, my watercolour painting of Bradbourne Mill, Derbyshire, won the Munroe Trophy in the Derbyshire Open at Buxton Museum and Art Gallery, Derbyshire.
I have recently started signing the front my paintings with my initials, 'NAC', less intrusive to the image compared to a full name (signed on the reverse side, as per usual, as Neil A. Clarke along with the title and picture ID number and date).

Reflection Paintings
I also produce studio based paintings which depict reflected images on glass surfaces – often a multiplicity of perspectives – aiming to challenge my own observational painting abilities and those of the picture viewer looking at what is confusing but also intriguing imagery. I use my own photographs as reference material – aiming to add an extra dimension to the image by transcribing them into paintings. This is a way of moving towards producing work of a more abstract nature where I could experiment with technique and materials to create much more personalised artworks – relying less on purely figurative imagery. In 2005, my watercolour painting of the German Pavilion, Barcelona, won 1st prize at the Royal Birmingham Society of Artists 'Open all Media' spring exhibition.

Architectural Paintings
I've been producing paintings of Derbyshire towns and buildings for forty years or so now, each painting eventually becoming a closely observed record of a place in time before the inevitable alterations occur that can change the character of a street/town/city.

Coastal Paintings
The Atlantic coast of the Penwith Peninsula, west of St Ives, Cornwall, as some of the finest coastal scenery in the UK. It reminds me so much of parts of the Peak District, but with the added ingredient of the Atlantic ocean as an awe-inspiring backdrop.

All images – Copyright © Neil A Clarke. Any form of reproduction, transmission, manipulation, display or other usage without permission is strictly prohibited.
Save
Save
Save
Save
Save
Save
Save
Save
Save