A model Telephone Box made as a chest of drawers.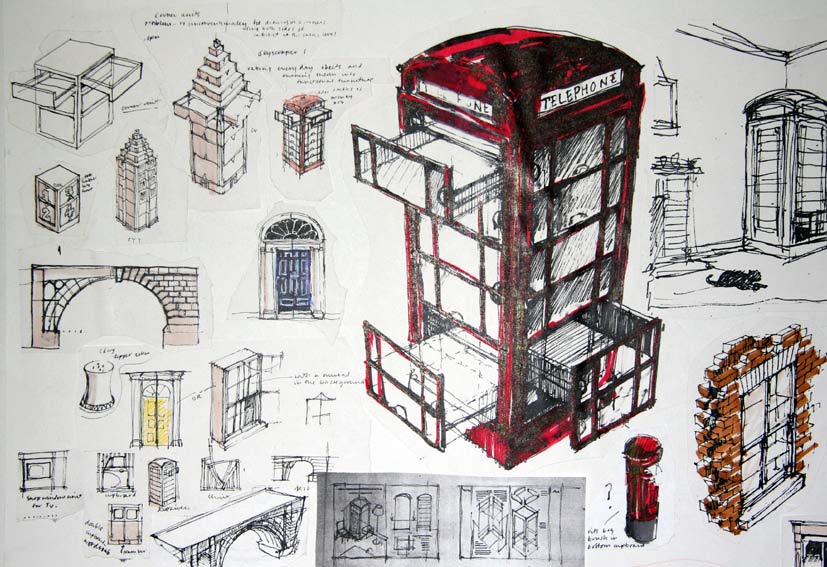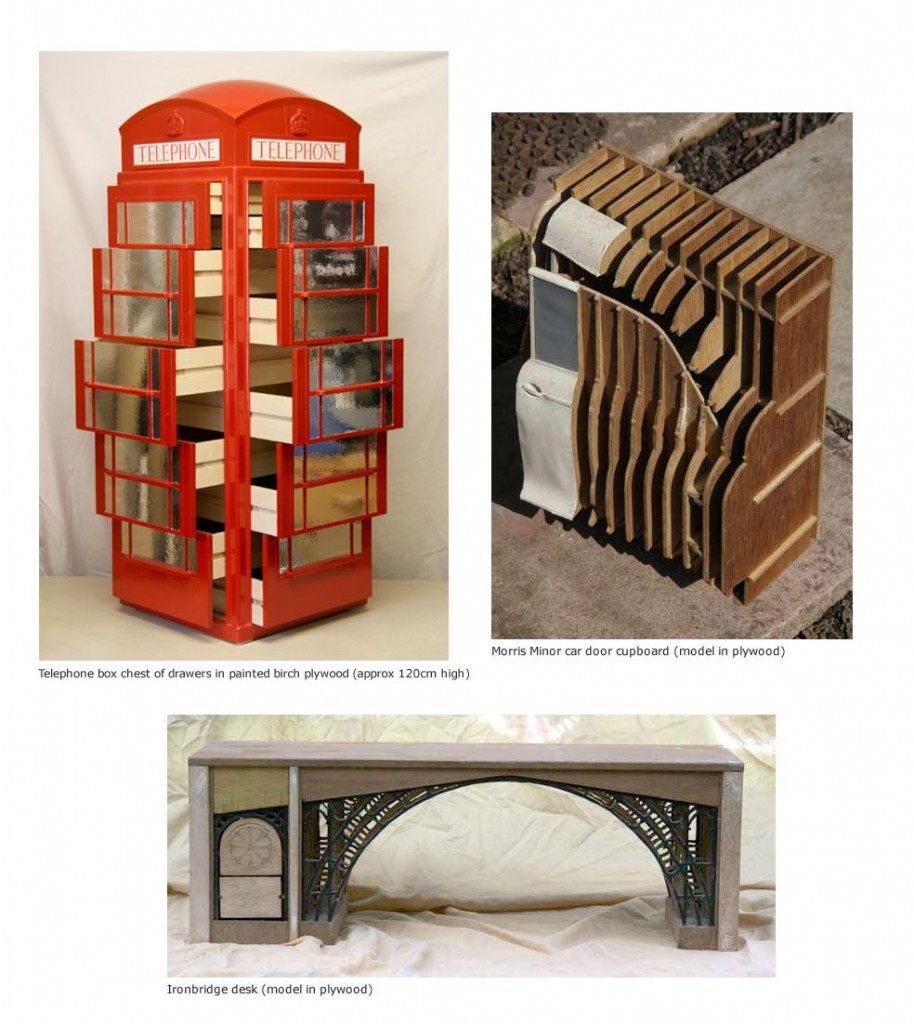 While I was studying for a BA (Hons) degree in graphic design at Norwich School of Art in 1983, I had the idea of creating furniture in the form of architectural objects (as shown in the original drawings above); these designs could eventually be made by D.I.Y. enthusiasts following my illustrated graphic posters showing how they were to be constructed. The most eye catching of these was an old red telephone box as a chest of drawers – designed to stand in the corner of a room with 10 overlapping drawers (which matched up with the window frame detailing – 5 drawers on each side) – a novel storage solution that I eventually registered as a design at the Patent Office in London (the drawings at the top show my very first idea sketch of the chest of drawers).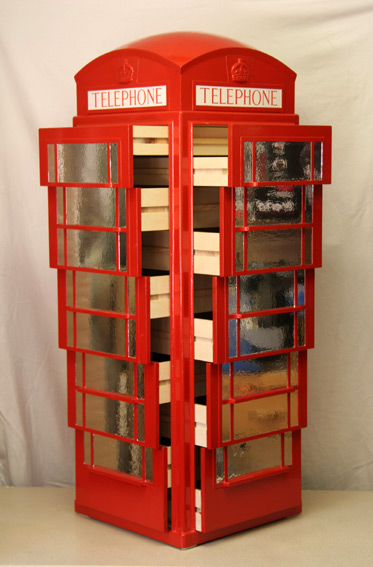 This led to me making a prototype model that featured in my degree show in 1984 – and was one of the reasons I became a self employed furniture designer and maker the following year.
The iconic 'K6' telephone box was originally designed by the architect, Sir Giles Gilbert Scott, (who also designed the original larger K2 box that can still be seen on the streets of London) to celebrate the silver jubilee of King George V. Many thousands were manfactured in Glasgow from 1936 onwards (mainly of cast iron construction) and were distributed allover the UK. They're still very much an important part of the British way of life and although many have been removed due to the increase in mobile phone availability, large numbers still remain in conspicuous places and are often used as book sharing spaces or to house heart defibrillators after the payphone has been removed.
It was important to make the external appearance match the original phone box as closely as possible in design and overall proportion. This attention to detail equates to a considerable amount of time taken up in the construction process using sustainable wood.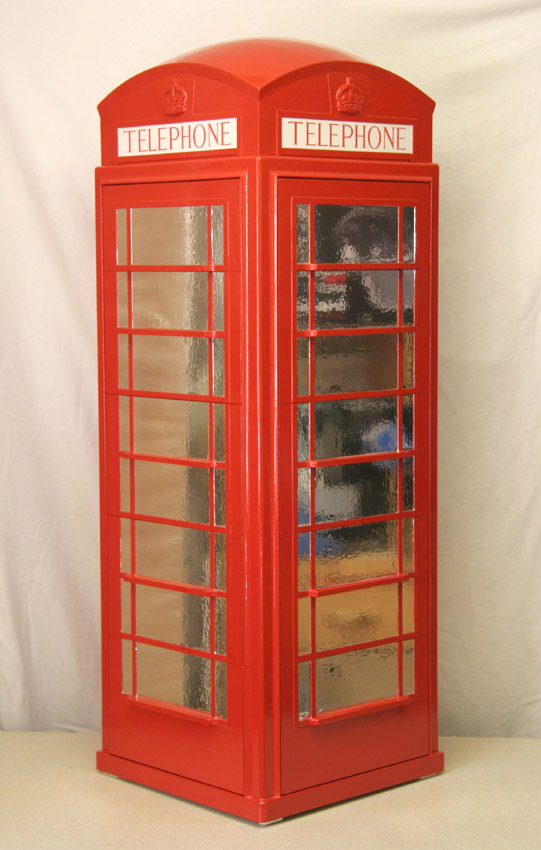 Traditional woodworking methods are used in the construction process, the drawers can be machine dovetailed for added strength and durability.
The windows are normally painted with grey gloss paint but a photograph of a rural scene can be fixed to the window spaces as a 'reflected' image to three sides.
Two sizes of 'tele-drawers' can be made to order (as a chest of ten drawers, 5 drawers to each side overlapping).
Medium size (114 cm high x 380 cm wide)
Large size (144 cm high x 480 cm wide)
Options at extra cost include:
3 perspex telephone signs (in lantern) to allow internal battery powered LED light to shine through.
Drawers on 3 sides (5 full length, 10 half length).
Photographic 'reflection' to windows.
Please get in touch with me to discuss further specifications and to place an order for this unique piece of furniture – visit the contact/get in touch page of this website for info.
We are supplied with renewable electricity from Good Energy Ltd, which means that all the machinery and power tools used in the construction of each piece are powered by 100% renewable energy sources. For more info visit www.goodenergy.co.uk
Save
Save
Save
Save
Save
Save