This section of my website shows examples of hand made furniture that I have designed and made to commission and pieces made for general sale, complimenting my work as an artist. I am fortunate to be able to produce both types of work – both are important to me – although my furniture work often takes precedence over my art work, simply for financial reasons. I have over thirty years worth of experience to offer as a designer/maker having started my business back in 1985. I specialise in producing pieces of contemporary and traditional furniture in solid woods incorporating traditional joints – such as handcut dovetails – which are made to the highest standard of craftsmanship. This ensures all the furniture that I produce will look good and last well for future generations, important in terms of making the most of the beautiful and sustainable material that is solid timber.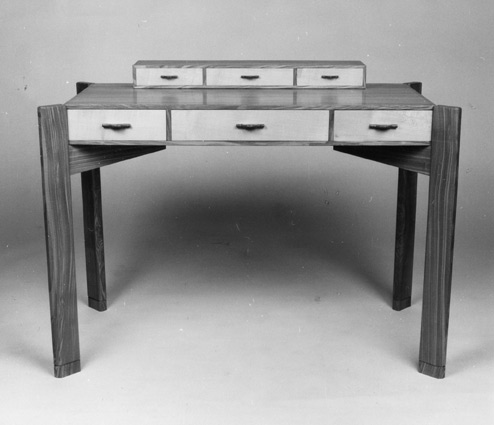 Early influences start with my father who let me use his basic carpentry tools to make wooden things in his dusty concrete garage. We also made things together such as bookshelves out of old plywood bed head boards using a B&D electric drill powering a frighteningly primitive circular saw.
I remember spending many happy hours in there during the summer holidays, carving and cutting primitive joints using an old blacksmiths vice. At my old comprehensive school ('QEGS') in Ashbourne, I was lucky to be taught the basic woodworking skills by some talented teachers but the most influential one was (the late) Harry Lawton. He instilled in me a love of crafting wood and his enthusiastic teaching inspired me to want to make fine furniture when the chance arose (his eldest son, Andrew Lawton, is also a very fine furniture designer & maker based in Grindleford, Derbyshire). Harry was a big fan of James Krenov, who made very elegant sculptural furniture using his own self made hand tools. He passed that enthusiasm on to me and I was fortunate to eventually meet 'JK' at his school of fine furniture making in N. California, U.S. in 1990.
During holiday periods between art college terms (as well as producing paintings to sell) I would buy and renovate old pieces of furniture and sell them in the small ads of local newspapers.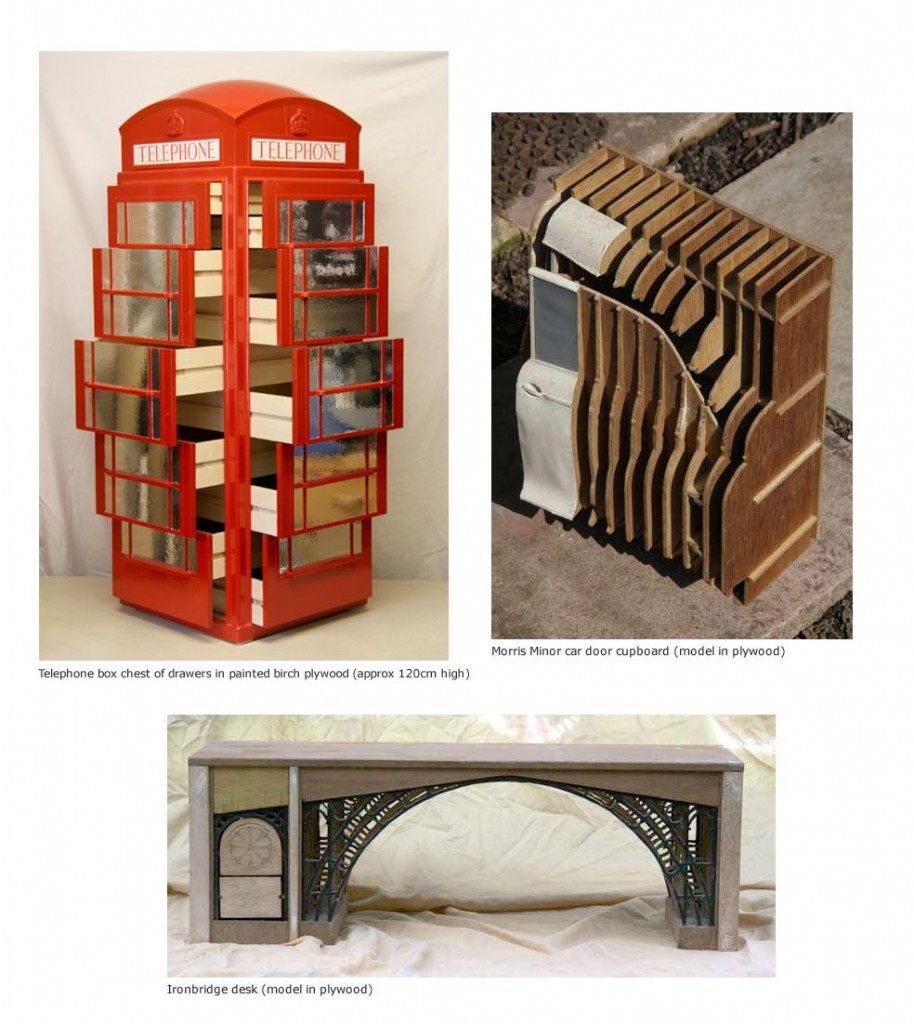 Whilst studying at Norwich School of Art, in 1984, (influenced by the likes of Fred Baire, Ron Arad who ran the 'One-Off' gallery in Covent Garden, London in the mid 1980's) I produced a range of designs – shown above – taking popular objects and turning them into scaled down pieces of plywood furniture (along with 2D graphics showing how to make them as D.I.Y. projects) – see the 'phoney furniture' page on this website.
Improved technical skills as a maker (helped by doing some part-time work for other established local cabinetmakers) saw me turning to more traditional solid wood designs as time went. Many of my early designs in solid hardwoods were influenced by the mighty Charles R. Mackintosh and also Ernest Gimson and Sydney Barnsley of the Cotswold group of craftsmen.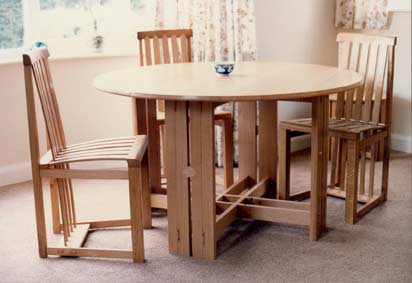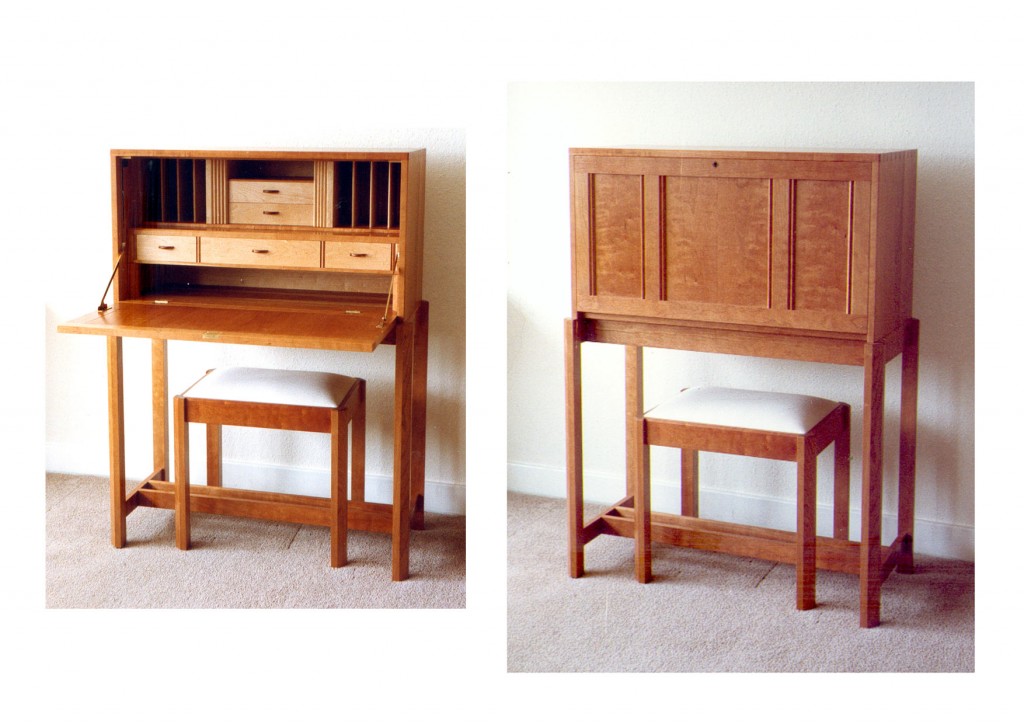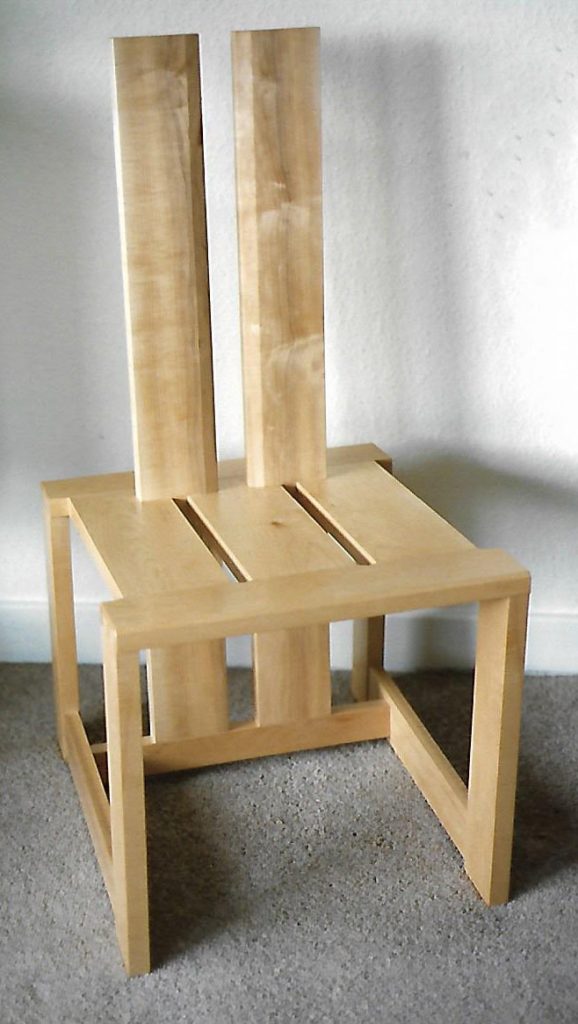 The pictures above and below show pieces that I have made for exhibitions, craft galleries and commissions –  from top to bottom they include a dovetailed writing desk in solid olive ash and sycamore, a solid oak circular drop leaf dining table with 'spring back' dining chairs in oak, a dovetailed writing cabinet and matching seat in solid American cherry and maple (with two secret compartments inside), a 'Portland'  chair in solid maple, a chest of drawers in solid American cherry and walnut (an item from a range of furniture to which I gave the name 'Stoneywell' – brochure illustrations shown) and a dovetailed storage chest in solid oak.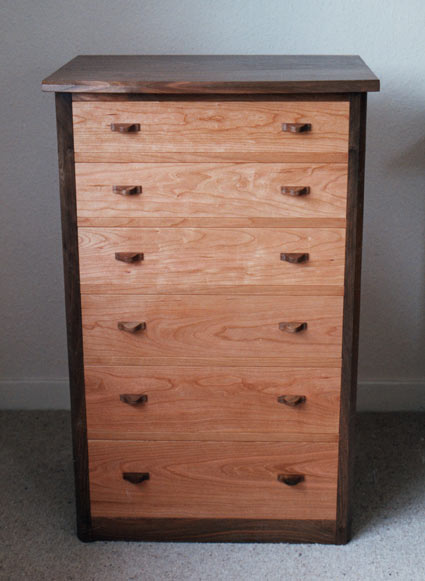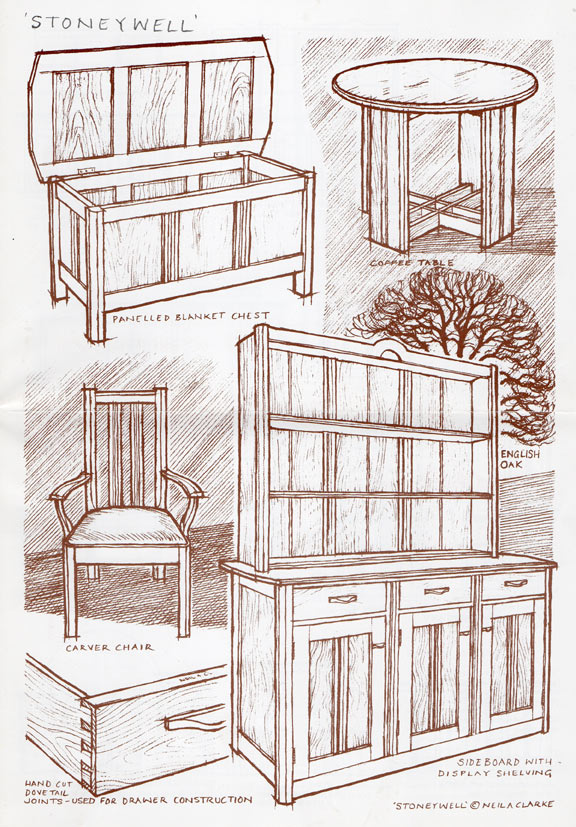 Bespoke furniture
'Bespoke' is at the heart of most of the work created by designer/makers, producing items tailor made to suit the requirements of discerning people who want a unique product that cannot be found on the 'high street' or in mass produced retail catalogues. Most of the commissioned bespoke work I have produced, since I  started my creative business in 1985, was designed in close co-operation with my customers.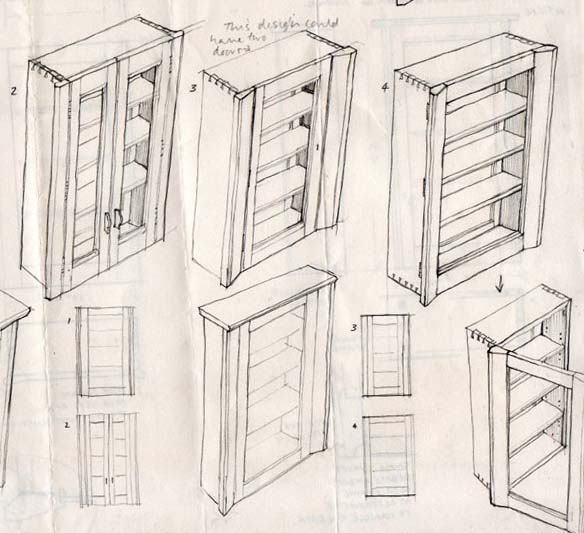 They initially helped to develop the appearance of their product with the help of my line drawing abilities in the form of pencil sketches. After consideration these were followed by scaled pencil elevation drawings (later using CAD) stating overall dimensions and, when finalised, construction work started. The end product of this collaboration of customer/designer/maker have resulted in successful pieces of furniture that are not only very satisfying to look at but are also very satisfying to use.  Not all pieces have to be made with expensive solid timbers (veneered panels can be used throughout the construction) but emphasis is placed upon sustainability – I believe in the importance of making furniture that will last the test of time in terms of appearance and construction.
Examples of bespoke commissioned pieces

Shown below are some examples of my 'bespoke' work produced over thirty years of business and can be found in private collections here in the UK and in the USA. The first image shows one of my illustrated designs for a storage and TV unit to be made in solid English oak (with natural brown oak panels) for a customer in Derbyshire, the finished product is pictured under this. Below that are another set of watercoloured elevation drawings of an oak cabinet produced for a customer in Surrey (and subsequently made in different sizes for other customers).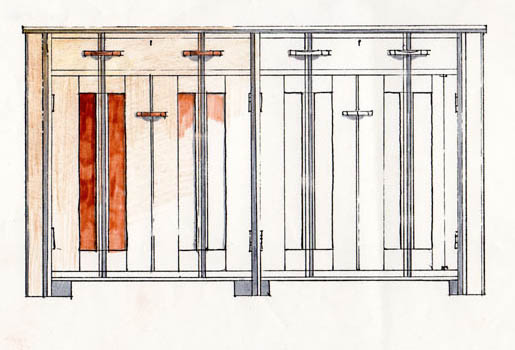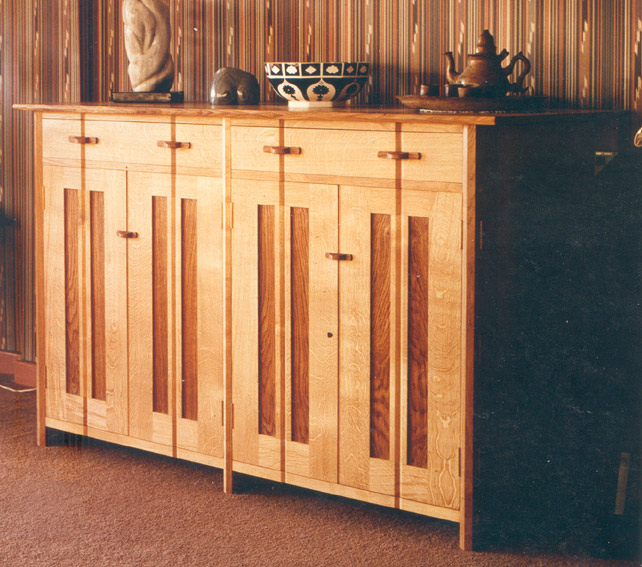 Shown below are a drop-leaf dining table and matching chairs in solid N. American cherry and maple for a customer in Wales.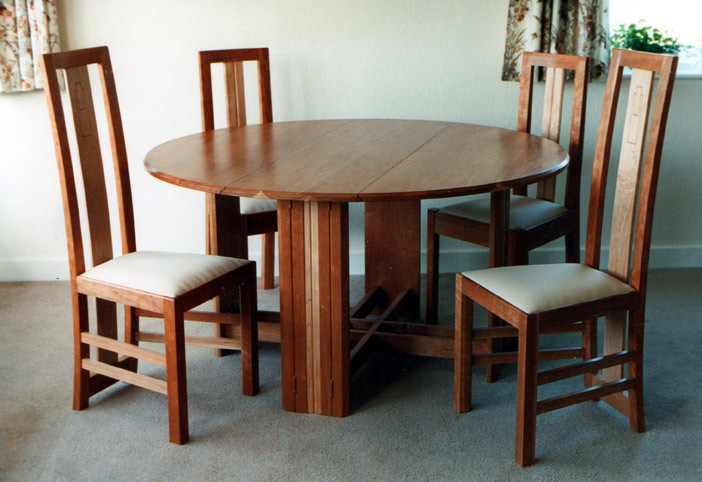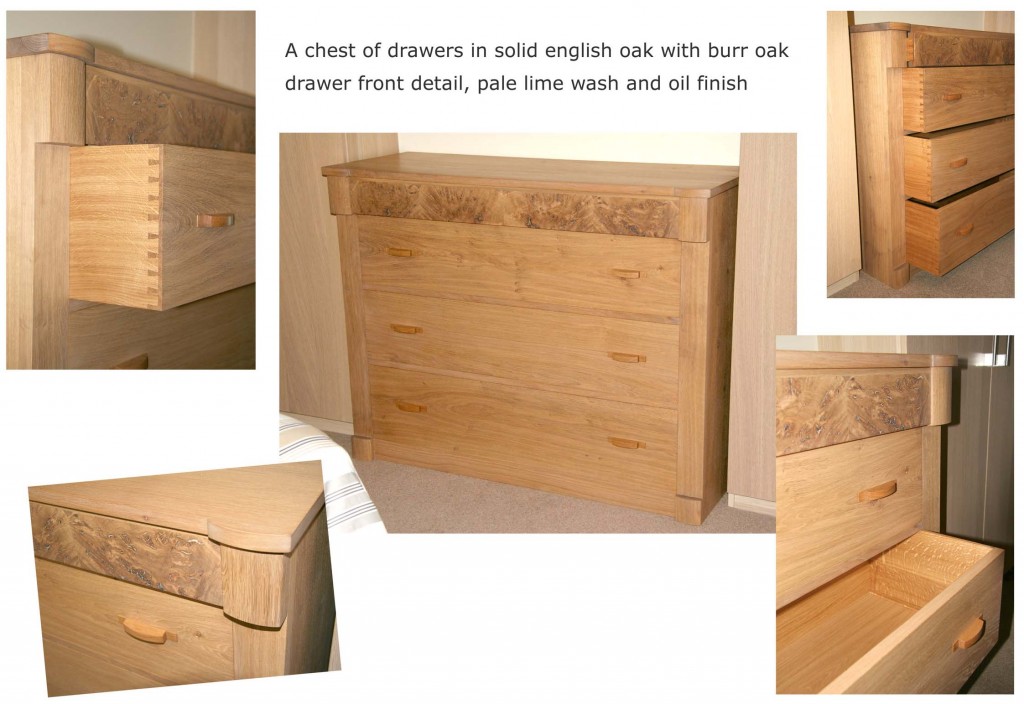 A chest of drawers in solid English (limed) oak for a customer in Derby –
"We've commissioned 2 pieces from Neil recently, both one-off originals. The first, a cabinet to hold LPs, CDs and DVDs was designed to fit into an alcove, and the second, a chest of drawers, was a modern copy of a Victorian chest which was too large for us. We feel very proud to have 2 bespoke pieces of furniture designed and made by Neil. They look beautiful, are highly functional and guests always comment on them.They are not cheap because they are made to measure, but we wanted something special
that will last. The wood is high quality and the workmanship excellent. Neil pays close
attention to detail, with neat dovetailed joints on the drawers. It's great to see a drawing translate into a unique piece of furniture, and we would be happy to recommend him to anyone." Mrs Ainsley of Derby.
A small console table (with drawer) in solid cherry for customer in Nottingham.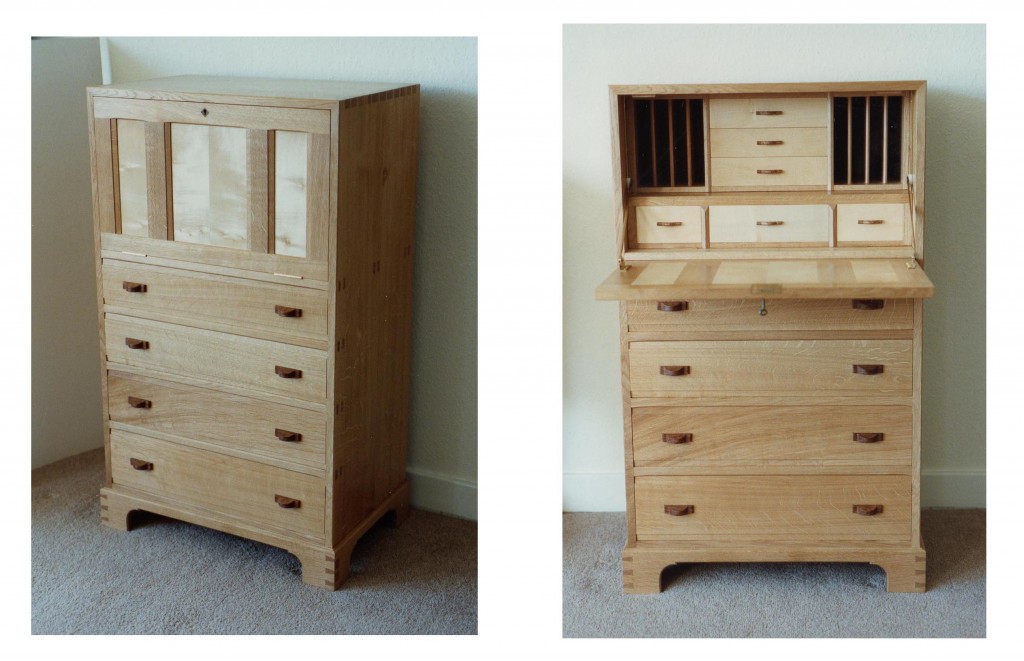 An 'arts & crafts' style writing bureau in dovetailed solid oak with rippled sycamore for a customer in Nottinghamshire.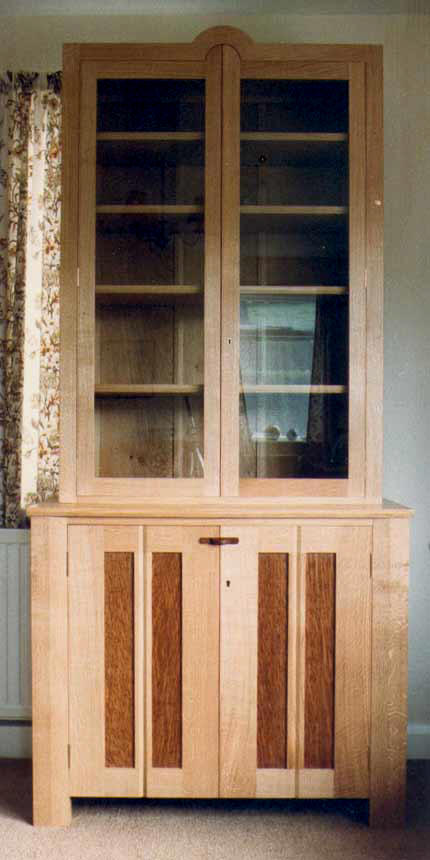 A two part display/audio cabinet in solid English (natural and brown) Oak for a customer near Derby.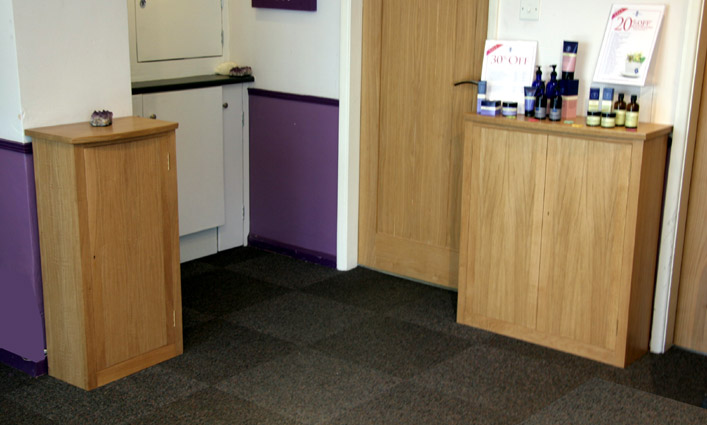 Recent veneered oak storage cabinets produced for the reception area of The Bridge Centre for Natural Healing, Mickleover, Derby (including Dove-table desks, seen below, in the treatment rooms).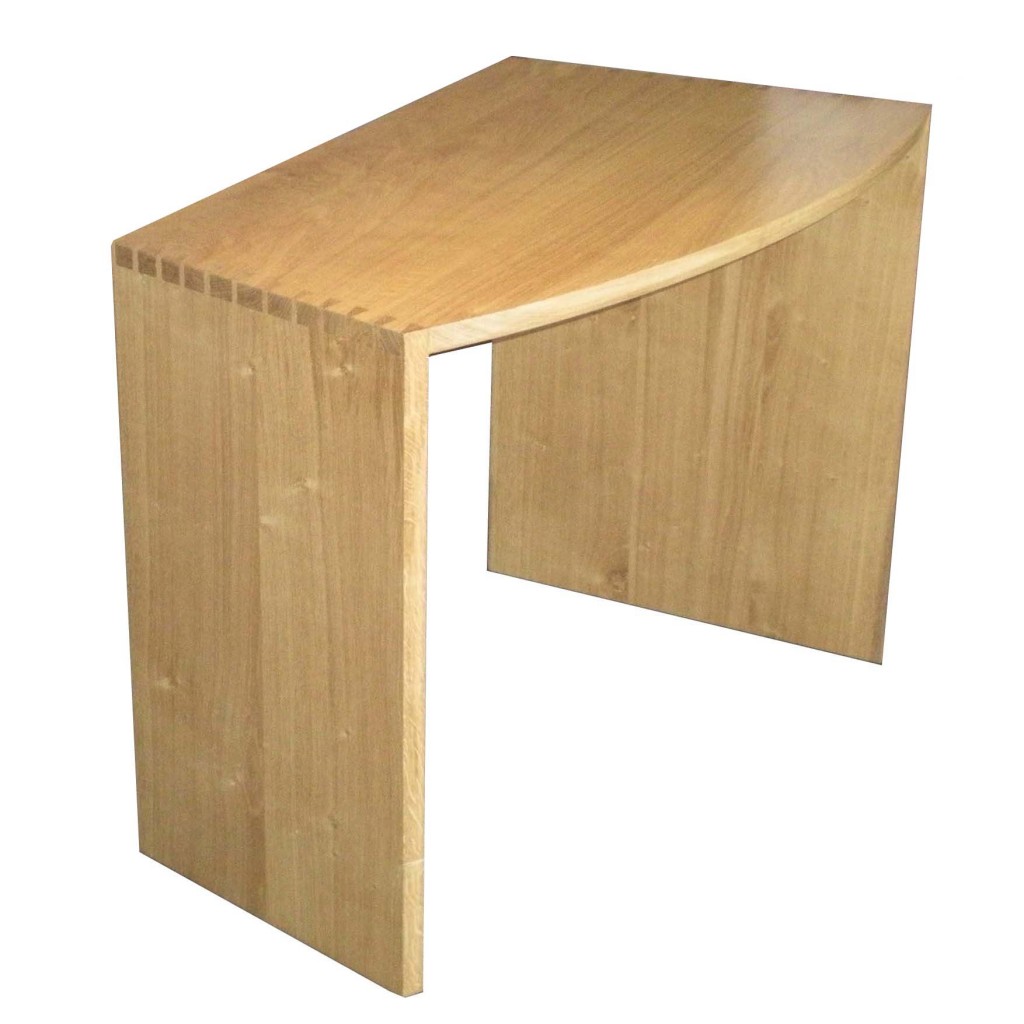 Letters of appreciation sent by former customers –
From the Late Professor Robin Coombs of Cambridge –
"Dear Neil,
We were very pleased to receive your note this week.
We now have both your small side tables in our dining room – the original one in American cherry + the recent one in elm & sycamore – quite delightful.
There is also walnut book & magazine rack and many odd inside sculptures of bog oak – your beautifully made small tables go extremely well + look lovely."
Professor Robin Coombs and his wife, Anne, purchased a writing table in olive ash and sycamore from Neil (shown on the archive designs page) at the Direct Design Show held in London in 1988, and subsequently went on to commission further pieces for their home in Cambridge. (In 1945 Robin Coombs devised a blood test for detecting rhesus antibodies in pregnant women, and in the new born babies of rhesus negative women, and became known as the Coombs Test, which is now also routinely used to test blood for transfusion.)
From Mrs A. Mallett of Yoxall, Staffordshire
"Dear Mr Clarke,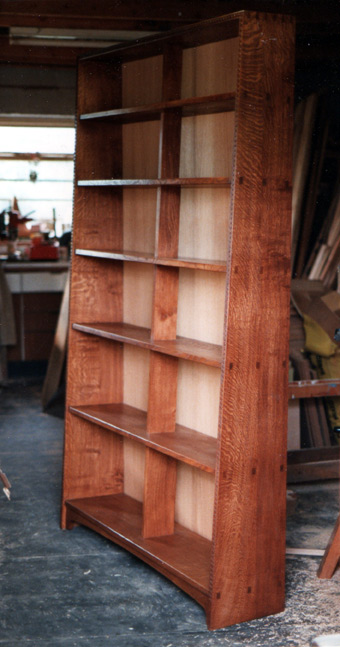 My husband and I are absolutely delighted with the bookcase you designed and made for us. We have put the books in – there is a little space left! And I find myself up on the landing more times than a few, just standing looking at it and admiring it and being so pleased that we have been able to have it.
We very much appreciate your case and the attention to detail which you have shown. It is beautifully made and we shall have much pleasure from it for the future. And one of our girls (but which?) will enjoy it after us. It will indeed be an heirloom. Thank you so much."
Mr & Mrs Mallet commissioned a tall bookcase in solid English stained oak (with chip carving to the front edges), designed in the style of Edward Barnsley of the Cotswold School of Craftsmen (based around Cirencester, Gloucestershire).
I can also produce letter carving for signs and commemorative inscriptions.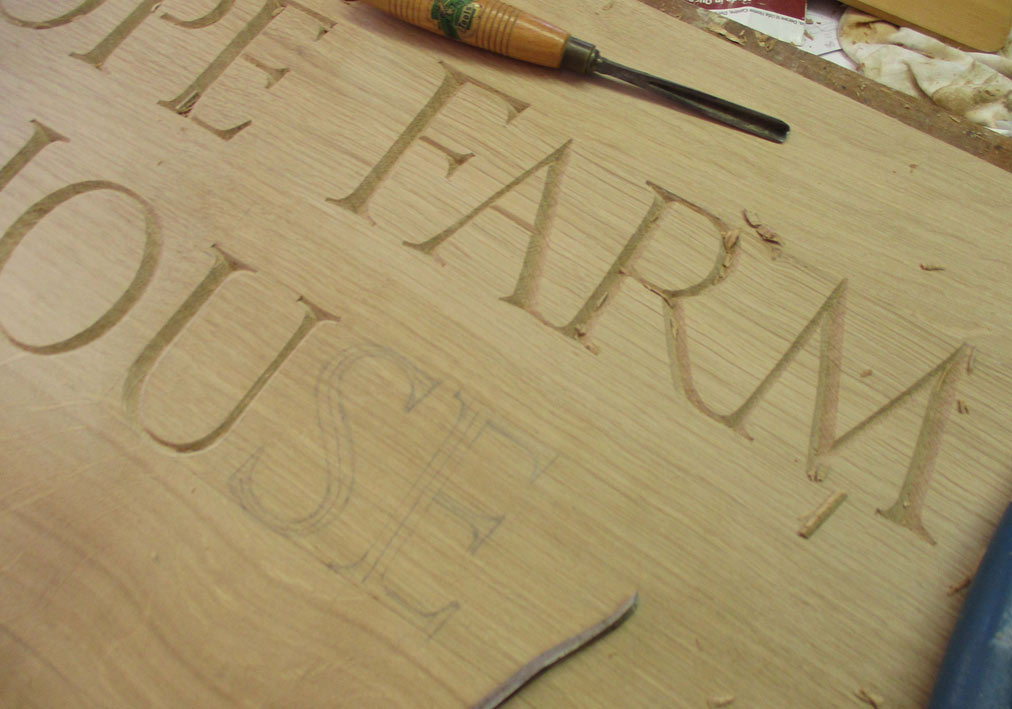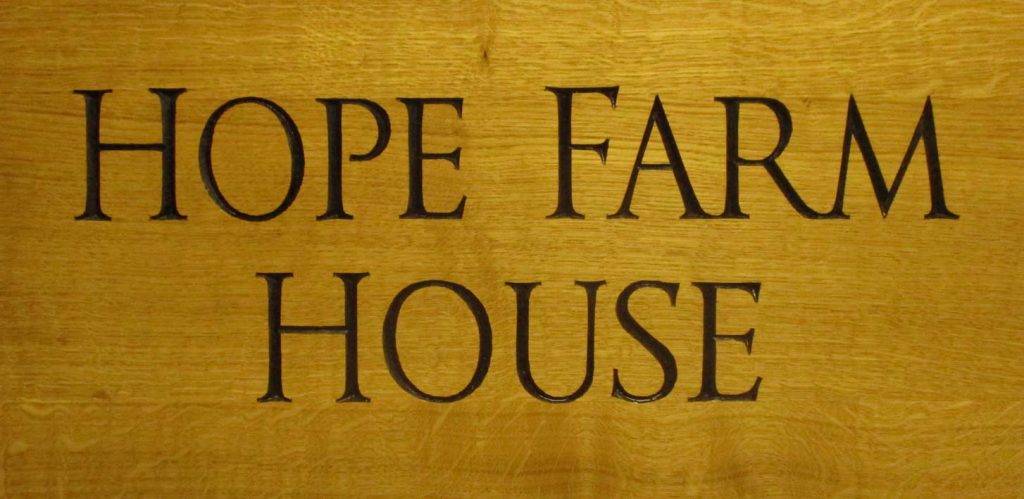 These examples are just a small percentage of the commissioned bespoke work that I have produced over the years.
Before construction work commences, I will normally request a 30% deposit in order to purchase materials.
We are supplied with renewable electricity from Good Energy Ltd, which means that all the machinery and power tools used in the construction of each piece are powered by carbon-neutral energy sources. For more info visit www.goodenergy.co.uk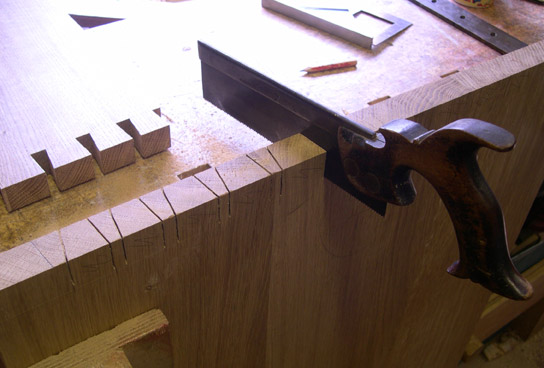 Cutting dovetail joint 'pins' by hand using an old tenon saw.
All images – Copyright © Neil A Clarke. Any form of reproduction, transmission, manipulation, display or other usage without permission is strictly forbidden.
Save
Save
Save
Save
Save